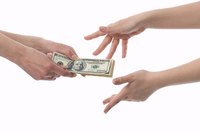 Individuals looking for ways to save on taxes while maintaining the benefits of quality health insurance plans can potentially save thousands through Health Savings Accounts. Created in December 2003, HSAs are available to anyone with a qualifying high-deductible insurance plan. HSAs are used to pay for medical expenses, and they offer many benefits to those who use them.
Tax Savings
HSAs allow account holders to set aside money tax-free to be used for medical expenses. Contributions to HSAs are 100 percent tax-deductible, and any money deposited into an HSA that goes unused accumulates interest. Account holders can use the money they set aside in an HSA to reduce federal and state income taxes by reducing their adjusted gross income. To do so, any money deposited into your HSA should be considered a deduction--not income--when you file your taxes.
Deducting the money invested in an HSA from your annual income will keep your taxable income in a range that could allow you to qualify for other tax deductions and thus save you substantial amounts in federal and state taxes.

Control Over Your Expenses
HSAs allow you to control your medical finances because you determine where your HSA money is spent. HSAs allow you to decide how much money you want to set aside for health care costs. Having the account also allows you to shop around for the best medical care at the best price.
HSAs can be used to meet deductibles, pay health insurance premiums in between jobs or pay for qualified long-term care premiums. They can be used to pay for the medical expenses of not only the individual covered by the high-deductible insurance plan but also that person's spouse or dependent, regardless of whether or not they are also covered by the health insurance plan. Unlike Flexible Spending Accounts, money in an HSA rolls over from year to year.

Variety of Uses
Aside from routine medical care, HSAs can also be used to pay for health care expenses that health insurance plans may not cover. Using the set-aside pre-tax dollars, you can pay for dental expenses like checkups, cleanings and braces, and vision care, including prescriptions and other eye care-related costs.
Alternative treatments such as acupuncture, homeopathy, chiropractic, herbal medicine and even faith healing can also be paid for using an HSA. Over-the-counter medicines and bandages are also eligible expenses. "Virtually all expenses related to the treatment or prevention of a medical condition can be paid from your Health Savings Account," says Fred Adams, vice president of HSA for America.