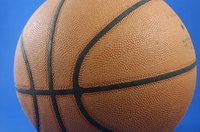 If you're searching for a gift for a basketball fan, you can make his or her birthday or other celebration special with a present that honors the love of the big orange ball. Basketball gifts need not be expensive; you'll find ways to spend just a little bit have a huge impact when you combine crafting and creativity. With just a few supplies and a trip to a craft or hardware score, you'll have a gift truly worthy of a three-pointer.
Hold the Foam
A short trip to the craft store can net you a few inexpensive items for a basketball gift. Find a large, round Styrofoam ball (they're usually in the topiary section and may be either white or green) and a can of orange spray paint. Pick up a black thick marker and head home to construct your basketball desk organizer. To create the organizer, spray the entire foam ball orange. When it dries, add the sew lines and details of the ball with the black marker. Use a butter knife to gouge some holes at the very top of the ball and going about halfway down into the ball; twirling the knife in the hole creates a smooth hole. After you've added a few holes, turn the ball over and gently scrape the bottom curve until it rests flat and doesn't roll if you tap it. Place a few pens and pencils in the holes of the ball and set it on your recipient's desk as a handy organizer.
Caught in the Net
Give your recipient a way to shoot some hoops even when he's far from the courts with a mini-basketball net. Although they're available from stores, you can make your own for less money, creating a more personalized gift. For a mini net, check your garage, backyard or hardware store for a sturdy piece of plywood or thick cardboard (such as one from a postal mailing box). To make the hoop, you'll need a 12-inch metal ring, which you can buy or create from a large container if you've got the tools to cut it down to size. The Youth Basketball Tips Web site suggests plastic flower pots as the ideal circle for the hoop. Before you attach the hoop to the backboard, check your house for something fun to use as a net. This can include old fishnet pantyhose, shirts and bags; you can also cut strips of basketball-patterned fabric so they hang down and "swish" when your shooter scores. To attach the ring and backboard, the Tips site suggests super glue, which may also be used to mount the net onto a door hanger or rope. For a more permanent backboard, drill screws through the back and into a wall for round-the-clock playtime.
Photo Switcheroo
Sometimes the best gifts are ones you cannot buy at all, but ones you make. If your gift recipient follows a certain team and has dreams of meeting or playing with a superstar athlete, you can help make her dreams come true with a few quick clicks on your computer. Photo editing and graphics software programs such as Photoshop, SnagIt and Paint offer the ability to put your honoree right where all the action is, without any training or having to come up through the minor team leagues. You can take a picture of her, cut around her image and place her directly into a huddle, lay-up or have her hang off the backboard during a vital game. Graphics programs make it simple to transfer images, creating fantasies with a couple of clicks. Transfer her head onto the body of a player shaking hands with her idol, or sneak her in to a team photo after a big victory. Once you've completed your sneaky masterpiece, print out the image and slide it into a frame; you'll find a large collection of inexpensive frames at places like dollar stores, which sometimes even have basketball themes right on the frame.