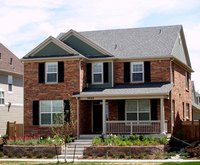 Illinois law allows only for a judicial foreclosure process. In the judicial foreclosure process, the lender has to file a lawsuit against the borrower, then receive permission from a judge to foreclose on and sell the property. Judicial foreclosures take longer than nonjudicial foreclosures because it requires all involved to work their way into the court's tight schedules.
Lender Notifies Borrower of Default
The judicial process starts when the lender notifies the borrower of their default on the mortgage. This notice must be received by the borrower 30 days or more before the date of the court hearing.
Court Case
The borrower then answers or pleads a case to stop the foreclosure. During the court hearing, the homeowner has the right to disagree with the foreclosure process and to provide proof or a reason why the foreclosure should not be granted. For example, if the foreclosure was started before the homeowner was in default, that represents an illegal foreclosure. However, if the judge decides in favor of the lender, a notice of sale is issued.
Auction or Redemption
The property can be auctioned off at a sheriff's sale and sold to the highest bidder. However, the Right of Redemption law in Illinois gives the homeowner 90 days to repurchase or redeem their property by paying off the unpaid balance on the property. To redeem your property, you have to go to the county courthouse where the foreclosure was conducted and request to redeem your property. The staff will give you information on how much it will cost to get your property back and how long it will take before the redemption is completed.