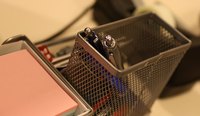 In the day-to-day business world, you have most likely encountered those moments when the papers pile up on your desk, you have deadlines to meet and you still haven't checked yesterday's emails. Organizational skills are the key to effective and efficient work habits, but staying organized can be a trying task. The good news is that there are organizational tools available to help people manage their work lives and stay on top of projects.
File Management Systems
The business world is full of paper, so it is essential to find a way to keep hard-copy documents organized and prevent important notes from getting lost. File management systems are organizational tools that will help you stay on track with documents that fly across, or land on, your desk. File management systems come in many forms and can be tailored to your needs. For instance, there are file management systems that organize documents alphabetically, chronologically and even electronically (if your goal is to go paperless). A 2001 issue of the "International Journal of Production Research" notes that file management systems help businessmen and women identify where certain things are, maintain paper trails, have easy access to information and maintain a universal filing process that can be easily interpreted by others. In all, file management systems are an effective way to stay organized.
Time Management Tools
A big part of staying organized is knowing how to manage your time. Time management organizers, such as scheduling systems and electronic calendars, are used in business to keep employees apprised of approaching deadlines, meetings, and how to schedule their day and what tasks to prioritize. According to an article from Bloomberg.com, time management software tools are effective in helping employees stay on top of their daily operations and be more productive. Software systems have the advantage of providing automated reminders for employees to work on certain projects or attend upcoming meetings. And such systems can be used on employees' laptops, desktop computers, phones or PDAs.
Desk Accessories and Organizers
Your desktop is where most of your work gets done, so it is important to have an organized workspace. A cluttered desk creates distraction as well as limits the amount of room you have to spread out your files or folders. To get organized, utilize desk accessories and storage organizers, such as letter trays, pen/pencil boxes, rolodexes, letter sorters, desktop shelves and drawer organizers for your paper and binder clips. These items will help you reduce clutter and put everything in its proper place so that you can maximize your productivity.