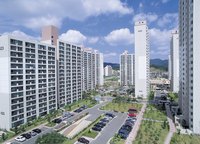 Successfully marketing an apartment complex requires a blend of selective advertising, community outreach and social media savvy. Targeting the right demographic can also increase occupancy, as can ensuring your tenants are happy and content, according to Tami Highbaugh-Abdullah of Aries GDIM Marketing, a graphic design and Internet marketing firm. Capitalize on what sets your apartments apart from the competition to make your complex stand above the crowd.
Reach Your Market
Target your advertising and marketing to the people most likely to live in your complex. For example, if you cater to seniors, advertise with flyers in senior centers and community centers or participate in an eldercare health fair. If your market is young professionals, put ads in local college newspapers and place posters on student union bulletin boards. If you're trying to attract young families, sponsor a local school district event or host a family fun day on-site to attract potential tenants.
Take It Online
Use pictures and virtual tours on your apartment complex website to highlight all of your amenities. Show floor plans, decorated units and common areas, as well as highlights, like pools and recreation facilities. Upload these visuals to your social media accounts when you run specials or limited-time offers to entice new residents. Encourage tenants to share complex photos and events online as well.
Offer Referrals and Rewards
Reward current or past tenants who refer new business your way. Perks might include discounted rent, a pass to a local health club or a gift card for an area eatery. Give existing residents similar perks when they renew their leases to make them feel appreciated. According to the U.S. Small Business Administration, a good marketing and customer service strategy focuses on meeting customer needs and exceeding expectations.
Create Referral Networks
Develop mutually beneficial referral networks to steer new tenants your way. For example, court real estate agents who help clients find transitional housing when moving, or work with local business organizations that need corporate housing for out-of-town clients and staffers. Ask them to refer your apartment complex and, in return, provide them with links on your website or advertising in your common areas and in complex communications.
Get Into the Community
Exhibit at community events such as community festivals, back-to-school nights and career fairs. Use backdrops that showcase photos of your complex and include bright-colored banners and flags to draw attention to your location. Give away logo items or hold a drawing for a TV or household appliance, like a juicer or upscale coffee maker.