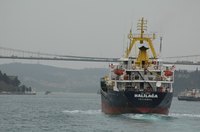 Marine insurance differs from many other types of insurance, since it is often utilized on an international scale to cover goods shipped between nations. A standardized vocabulary exists to help insurance companies and businesses purchase adequate protection and handle claims effectively. Marine insurance is difficult to regulate because of its international nature, so slight variations in terminology may exist between companies.
General Average
Cargo ships may contain cargo from a number of different businesses and industries. During the voyage, some of the cargo may be voluntarily sacrificed to mitigate against a larger loss to all the inventory or the vessel itself. General average refers to losses of this type. When general average losses occur, the loss is paid by the ship owner and cargo owners on a pro-rata basis. Each cargo owner makes a general average agreement prior to the voyage.
Barratry
If the ship captain causes a loss to the ship or cargo through any act of wrongdoing, including fraud or theft, it is considered a barratry loss.
Assailing Thieves
Assailing thieves are pirates or any other group that takes a ship's cargo by force. This term does not apply to embezzlement or sneak thievery of any kind.
Declaration
Marine cargo insurance policies are often written in "open cover" form, meaning the insurance applies to a certain dollar amount of goods, a certain time period or both. The specific inventory is not declared at the time the insurance is written. Therefore, declarations must be made and reported to the insurance company regarding specific goods shipments that fall within the scope of the open cover policy.
Consignee
The person or company that receives a shipment or takes responsibility for it is called the consignee. The consignee is different from the manufacturer and exporter.
Insured Value
The insured value of a shipment is often the same as the landed value, or wholesale market value at the destination on the day of discharge. The insured value is calculated by adding the invoice cost, guaranteed freight, insurance premium, other applicable costs and a markup, typically about 10 percent.
Warehouse to Warehouse
The warehouse to warehouse clause is part of an import-export insurance policy that affords insurance protection for the cargo from its originating warehouse to its destination warehouse and everywhere in between, as long as it is part of the ordinary course of transit.