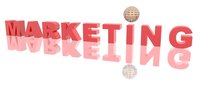 When it comes to marketing your business, product or service, spring can be a great time for seasonal promotions. Take advantage of the sunny weather and end-of-winter cheerfulness of your customers, and focus on marketing efforts that encourage clients to make the most of the season. As you choose spring marketing activities, consider the season-specific needs of your customers.
Easter Egg Hunt
If your customers and target audience have families, sponsor a community-wide Easter egg hunt. Schedule the hunt before Easter to avoid conflicts with family time, and provide entertainment for parents. Put your company logo on the eggs, takeaways and tables, and give away products that double as advertisements, such as branded pens and sticky note pads.
Spring Cleaning
Create a marketing campaign that centers around the idea of spring cleaning, of clearing away the dust and clutter of winter in preparation for the warmer months ahead. Choose an angle that works for your business. A supermarket might offer a discount on cleaning supplies, for example, while a hardware store could focus on rakes and gardening tools. In the corporate world, an advertising firm might suggest to clients that they clean out old, wilting advertisements and come up with fresh new ideas.
Marketing Redesign
To recapture the attention of your clients and customers, spruce up your marketing materials in time for spring. Have a graphic designer review and streamline your design, perhaps adding new graphics or a different take on your brand identity. Once the redesign is complete, send out an email newsletter or direct mail announcement and invite readers to check out your website or stop by the store to see the changes.
Plantable Postcards
To express your green-business practices and catch the attention of your clients, print your spring marketing campaign on postcards that can then be planted. Companies like Botanical Paperworks print postcards, invitations and other materials on paper that can be planted to grow a variety of plants and flowers. Your customers are sure to remember this promotion and will appreciate your commitment to the environment.
Community cleaning
In the theme of spring cleaning, sponsor a community-wide cleanup event to engage your customers and allow employees to interact with the target demographic. For a few hours on a Saturday, arrange a time for employees and community members to bring their recyclables and big items to a drop-off point, or schedule trucks to pick up items from houses. Arrange teams to work park and highway cleanup, and be sure that your company logo and services are on posters, T-shirts, bags and giveaway items.