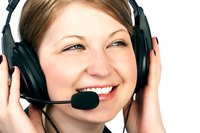 Customer service is the most important aspect of your business beyond the value your product or service gives to buyers. Therefore, you must have the best customer service you can afford. There are ways to "incentivize" (provide incentives) your customer service department to ensure that your clients are getting the best service.
When creating an incentive program, make sure you create incentives with your customers in mind. Create incentives that will raise the quality of client services while not harming client relationships.
One example of a poor customer service incentive is the recent occurrence of restaurants requiring wait staff to pool their tips. By requiring tip-pooling, the restaurant owner or manager is inadvertently "deincentivizing" her staff. If waiters or waitresses do not have the chance to earn more through tips, what incentive do they have to give exceptional customer service?
Customer-focused Incentives
Tie your incentives to what makes your clients happiest and you will find that this will also make your customer service employees happy. Your ultimate goal is to incentivize your employees to serve your clients to their utmost ability.
According to Lopo Rego, assistant professor of marketing at the University of Iowa, business should make customer service an "investment" and provide exceptional training and incentives on the basis of performance.
Customer Feedback
Invite clients to participate in a short customer service survey each time they are served and then reward your customer service staff on the basis of the results. You can reward them with money, vacation days, even T-shirts. Be sure to offer something to the client, as well, for her time.
Employee Feedback
Ask your employees about their jobs. By identifying the employees' successes, obstacles and desires, you can go far in making it easier for your staff to service your clients. One way to get employee feedback is to set up quarterly meetings with individual employees to discuss how you can make their jobs easier. Another way is to send out monthly email or paper surveys that all employees can anonymously respond to so they feel free to be honest.
Employee Recognition
We all know about "Employee of the Month" programs. Although we may not see their value, they remain one of the best ways to incentivize your customer service staff. Openly recognize top performers, make them an example to emulate, and others will follow.
Empowered Staff
When you limit the amount of time and the extent to which your customer service staff can help clients, you limit the staff's ability to serve the client in the way they believe is best. Remember, staff are the ones on the front line--let them do their jobs, unencumbered.