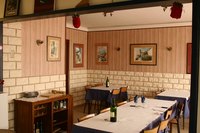 There is not a grant program specifically for start-up restaurants--though many people believe that these programs do exist. This is because every once in awhile, there are advertisements for grant programs that are offered by the government, and that makes business owners think that getting government grants is easy.
Such grants for start-up restaurants are not readily available, and getting one is no easy task. There are some business owners however, who may qualify for a grant. You might qualify for one of these.
Private Grants for Small Businesses and Small-Business Administration Loans
Grants are wonderful financing options because they do not have to be paid back. However, business owners must qualify for one first. That is not easy, because every grant has very specific eligibility requirements. Most grants are given to state officials and organizations that perform a public service. However, there are some small-business grants. These grants are given to businesses dedicated to satisfying a public need. Searching through the available grants is the only way to find out what is available.
The Small Business Administration is the only government agency that assists small businesses with getting money but it does not offer grants. The SBA does offer a wide variety of loan programs instead. Business owners can use the SBA resources to obtain loans for a start-up restaurant, disaster assistance and many other purposes.
Federal Grants and State Grants
There are several government agencies that offer grants. These include the U.S. Department of Health and Human Services and The National Endowment for the Humanities. The U.S. Department of Housing and Urban Development (HUD) also distributes grants for which some small businesses may qualify. To see what grants these agencies, visit their websites.
Some state agencies do offer small business grants. It's important to find out which states offer these grants, because not all states do. The U.S. Department of Labor sometimes offers grants to states for the Green Jobs initiative, the Aging Worker Initiative, and the Recovery for Auto Communities program. Contact your state's branch of the Department of Labor to find out if your business qualifies for one of these grants.
Misleading Information, Other Options
At this time, the government is not offering grants to help start small businesses. Even though there have been commercials stating that "stimulus" money is available, this is not true. It is important to know that any advertisements or commercials stating that there is government money available for small-business owners are false.
The first step is to visit the government grants website. This is the only reliable source for grant information. Begin by clicking on "Find Grant Opportunities," and search for grants. Since there are thousands of grants in the database, narrow your search with keywords or choose an agency that fits your business.
Search through the available grants until you find one or a few that suit your business. Next, register for the website. After registration, you can apply for the grant online. There are some applications that may require you to submit additional information via mail or fax. If you have registered, you can track the progress of your application when you log in.