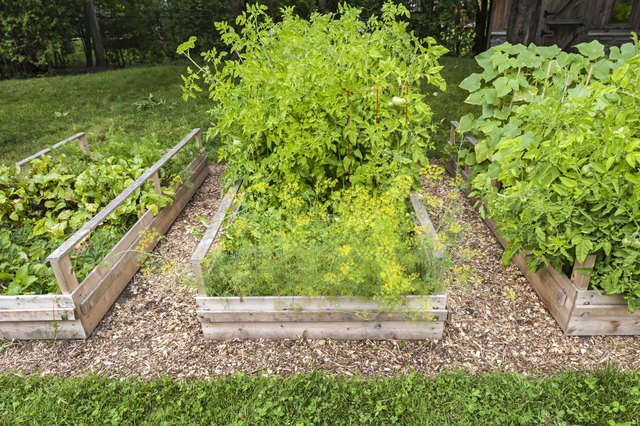 Raised garden beds made of wood are considered visually appealing as well as practical. Because wood is a natural material, it blends with the various greens of a vegetable garden and the riot of bloom colors in a flowerbed. On the practical side, raised garden beds are spaces to add topsoil without fear of it washing away. Several kinds of wood are used to create raised garden beds.
Cedars
Aromatic Red Cedar
Aromatic red cedar wood, also called eastern red cedar wood, is known for its distinctive scent, which has the added benefit of repelling insects. It's often used to make cedar chests because it deters moths. The heartwood runs from reddish-yellow to a purplish-brown and has a fine texture and straight grain. Cedar lumber is simple to work with and rot-resistant. It can be more expensive than other types of wood and hard to find because it isn't commercially produced.
Western Red Cedar
Western red cedar wood has a straight grain, with the heartwood running from reddish to pinkish-brown, sometimes with darker streaks. Western red cedar has a tendency to split when screws are inserted where holes weren't predrilled. It is resistant to rot and has some resistance to insects. This wood is available at many lumberyards. Its cost depends on its quality and cut. In some parts of the United States, such as the East Coast, its may cost more than in other locations because of the cost to ship it to those areas.
Warning
Cedar may cause an allergic reaction in some people, though the reaction is fairly rare. To avoid or minimize the problem, wear a long-sleeved shirt, long pants, closed-toes shoes, a hat, safety glasses and a face shield when handling cedar and other kinds of wood.
Bald Cypress
Bald cypress heartwood is a light, yellowish brown, but occasionally pieces of it have darker areas. The grain is straight, and the wood glues, nails and finishes well. Old-growth bald cypress wood is more resistant to rot than wood from young bald cypress growth. Any bald cypress wood, though, typically holds up better over time than pine wood. Bald cypress wood tends to dull cutting edges. Its price depends on its quality and location. Locally grown and processed bald cypress wood, such as in the U.S. Southeast, is the least expensive.
Warning
Bald cypress wood occasionally causes allergic reactions, usually in the form of respiratory irritation. Wearing proper clothing and safety gear minimizes the risk of an allergic reaction.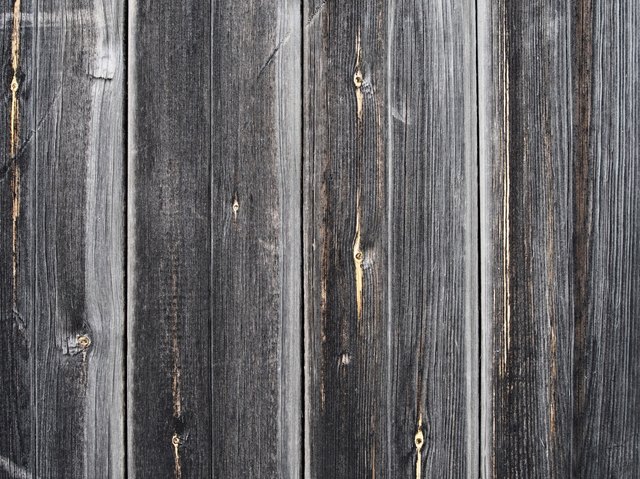 Southern Yellow Pine
Virginia pine is only one kind of pine wood sold as southern yellow pine. It is straight-grained with a medium texture and simple to work with most tools. It has a resin that can dull sandpaper and stick on tool edges. The heartwood is reddish brown and has a distinctive scent. Virginia pine wood is not as resistant to rot as other kinds of wood. Pine wood is available in different grades of quality, which determine its price. Spruce pine wood is also sold as southern yellow pine. Its characteristics are similar to those of Virginia pine wood.
Warning
Virginia and spruce pine wood carry the distinctive pine scent. That scent and the resin cause usually mild allergic reactions in some people. Minimize the risk by wearing proper clothing and safety gear.
Hardwoods
Hardwoods, such as California black oak and southern red oak woods, aren't usually used for raised garden beds. They are among the most expensive woods, usually reserved for making furniture, flooring and cabinetry. The hardness of hardwood makes it difficult to work with, yet its resistance to rot is moderate at best. White oak is an exception, but it is typically more expensive and often used to build boats.
Composite Wood
Composite wood is made of wood-pulp fibers mixed with plastic resins. The mixture is formed into sheets and pieces that sometimes mimic the appearance of traditional wood. Composite wood is usually more expensive than solid wood. It is fairly simple to work with and has a long life, but not enough testing has been done to determine its susceptibility to rot. When used for decking and decking posts, it appears to wear the same as solid wood, but decking posts are usually placed in cement rather than exposed to soil. Composite wood used in a raised garden bed, however, would be in direct contact with soil.
Tip
If you're thinking about using treated lumber in your raised-bed project, read this first.