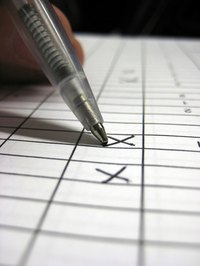 ISO, which stands for International Organization for Standardization, is a range of quality management standards that help a business implement procedures and processes to guarantee high quality in a product or service. Part of the requirements of receiving ISO accreditation is a regular internal audit to make sure that processes are being adhered to.
Management Commitment
Auditors should ensure that upper management fully endorse and and are totally committed to the creation and implementation of quality management procedures. This includes communicating the importance of quality management to all employees, maintaining the implementation of quality management processes and ensuring that quality objectives are met. Managers should also designate someone to oversee the creation and implementation of quality control procedures.
Customer Focus
An internal ISO auditor should establish how higher management ensures that customer requirements are met on a regular basis, and how their needs are determined. This will allow the company to focus resources on meeting the demands of their customers. Auditors should also determine what systems have been implemented to increase customer satisfaction.
Quality Policy
All businesses should have a quality policy, and it is the role of the auditor to establish how higher management ensures that this policy meets the needs of the company and is continuously improved. Auditors should also find out how this policy has been communicated throughout the organization, and whether or not it is periodically reviewed.
Quality Objectives
Business objectives regarding the quality of a product or service should be measurable, and it is the role of an auditor to discover how this is managed. Objectives should also be achievable by the company, with appropriate resources available to meet these goals. All objectives should be documented, and this information conveyed to employees and staff.
Management Review
An auditor should establish whether or not the higher management team meets regularly to discuss and ensure the effectiveness of all quality management procedures, and whether or not records of these reviews are retained for future reference. The contents of a management review should also be documented in a clear procedure to ensure that the progress of a quality control procedure can be measured each time the managers meet, by comparing current effectiveness with that experienced and discussed in the previous meeting.