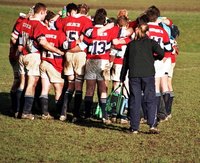 Using games is an effective way to teach valuable team-building lessons such as teamwork, communication skills and leadership. Take your team outdoors to get them out of their normal working environment. Each team-building game is intended to have fun and teach a lesson. At the conclusion of each game, pull the team aside and debrief the game and the lessons that can be learned through the experience. Have the team identify the lessons and how it applies to their daily tasks and working environment.
Obstacle Course
Create an outdoor obstacle course where team members can learn to listen and trust one another. Use common outdoor items such as a playground, trash cans and landscape to create a basic obstacle course. Separate the team into pairs. Provide one person with a blindfold and allow the other to use their sight. Line the pairs up in a single-file line and allow each pair to complete the course, having the one with sight guide the blindfolded person with only words. Do not allow the person with sight use his or her hands or other gestures to guide the person. At the end of the course talk with the team about the importance of listening skills, following directions and leadership.
Water Balloon War
Buy water balloons and fill them before beginning the game. Separate your team into two teams. Allow the teams to create a team name and identity. Have each team draw their team symbol on a flag. Instruct the teams that their objective is to capture the other team's flag. Draw a line in the middle of the field and give each team a side. As long as the teams remain on their sides, they cannot throw water balloons at the opposing team. Once a team member from the opposing side crosses the line, the team can throw water balloons with the intention of hitting him or her. If a person is hit with a water balloon on the opposing side, he or she is out. Play the game until someone from the opposing team captures the other team's flag and successfully crosses back onto his or her team's side of the field.
Tight Line
Spray paint a straight line on the ground outside. Instruct team members that the objective is to successfully get the entire team to walk the line while keeping their ankles together. If anyone's ankles separate at any time during the game, the entire team needs to start over again.