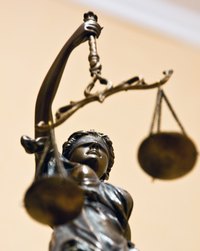 Persuasive strategies are all vested in accomplishing a certain result. Usually that desired result relates to convincing an individual or group of people to have a certain opinion about a belief, circumstance or course of action. Knowing tried and true methods of persuasion are necessary for success in numerous careers, from jobs in marketing and advertising, to law, fashion and politics.
Emotional Appeals
Emotional appeals are a persuasive strategy which tries to persuade someone of something based on the feelings they have as a result of being human. This can be a very effective tool. As humans, our feelings can often influence our decisions. For example, to persuade someone to stop smoking you might tell them a personal story about a family member who died of lung cancer and all the grief that you're suffering because of this person's fatal addiction to cigarettes. You could also allude to all the suffering that this person's smoking causes to loved ones in his life. You might also mention the discomfort that this person suffered due to chemotherapy and show pictures of lungs and other organs infected with cancer from smoking.
Benefits
Spotlight the benefits that a person would have if she ends up supporting or following a particular opinion or course of action that you endorse. Try to present these benefits in the most positive light possible so that they can overwhelm any remotely beneficial aspects of the opposite opinion or stance. For example, when attempting to persuade someone to quit smoking, highlight all the things that she will be able to enjoy directly stemming from that life decision. For example, talk about all the money that she will save from not buying packs of cigarettes and how cigarette smoke will no longer stink up her clothes or the clothes of those around her, nor will nicotine stain her teeth and nails. Highlight the fact that she will no longer be risking her life from possible smoking related illnesses such as cancer and emphysema.
Logical Appeal
Appealing to a person's sense of reason is a classic tactic of persuasion. The key is to couch your argument or opinion in such a way that it seems like the most rational path to take. When you use this strategy most effectively, those that disagree with you should almost seem irrational or to lack common sense. For example, when convincing someone to quit smoking you might simply ask them a question along the lines of "Why do you engage in a habit that puts your health in extreme harm, infects your hair and clothes with a foul odor, stains your teeth and drains your wallet?" Alternatively, to appeal to the logic of reason, show the smoker how much money he is spending each year on cigarettes and talk about other things that money could go for that would more positively benefit his life, such as a vacation, or a car payment, or a new computer.