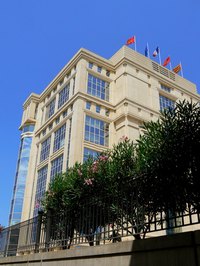 In today's hospitality sector, each hotel must differentiate its brand and specify its services. Travelers have different needs, making brand developing and segmenting imperative. Additionally, branding allows hotels to take advantage of opportunities that can arise from pricing structure, business alliances, product extensions and co-branded outsourced services.
Segmentation from Economy to Luxury
One hotel cannot cater to every traveler--the hotel must position itself for a specific clientele. Travelers have different needs, expectations and budgets, and hotels take this into account when developing their brand. Budget/student travelers, traveling families, business travelers and jet-setters are some of these segmented groups. Some hotel groups own many branded individual hotels, each catering to a different traveler, while other groups acquire existing hotel brands, each catering to different segments.
Price-Based Strategy
Hotels can create an accommodations-versus-price mix that aligns with their clientele's budgetary needs. A student backpacking across Europe and a business director attending a conference will have different budgets. Cheap rooms with multiple beds would appeal to a high-turnover student clientele, whereas a business might pay for a high-end suite equipped with fax, wireless Internet, and amenities to accommodate one of their executives.
Alliances and Affiliations Within the Hospitality Sector
No boutique hotel has to be an island when there are alliances that can be made. There is strength in numbers, and if a hotel is not a part of a hotel group, it actually behooves them to ally themselves with a network of businesses that have the same brand ideals. For example, if a hotel positions itself as trendy, the hotel might ally itself with local creative associations, designer events and up-and-coming local restaurants. That way, they can benefit from referrals, along with strengthening their brand's equity.
Brand Extensions
Hotel brand extensions work in two ways--hotels translating their brand name into products and non-hotel-oriented products extending their brand to the hospitality sector. In some branded hotels, guests can find products available in their rooms also available to purchase in the gift shops. Items such as towels, robes, linens and stationery are subcontracted to private labels and produced under the hotel's brands. Alternatively, there is a recent trend with fashion companies translating the luxury associated with their brands into the hotel business.
Co-Branding with Outsourced Services
There are more and more ways to incorporate other brands into a hotel's marketing activities. When two or more brands come together but maintain their individual brand names, both of them benefit. Recent trends include providing guests with branded spa products instead of generic bath products, using a designer to create uniforms for the hotel staff, and using franchised brands for food and beverage services instead of staffing a hotel kitchen/dining facility.