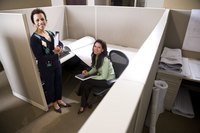 Most businesses are made of subsections of teams, commonly called departments. Each team is provided with a leader, called a manager, who oversees its daily affairs. The managers of each department are considered the management team that makes executive decisions, sets the company vision, creates a corporate culture and enforces policies and procedures to ensure the company runs smoothly and in unity. A management team may meet on a weekly, bi-weekly or monthly basis to discuss areas of concern and ways to improve performance.
Make Decisions
A management team is responsible for making decisions that affect the entire organization. When a decision needs to be made, the management team meets to discuss different options, needs and potential outcomes. Each department manager expresses her department's perspective. The management team works together to choose a solution that will benefit the company.
Set Company Vision
The management team develops a corporate vision or mission statement that details specific goals the company strives to uphold and enforce. Common goals include providing outstanding service, taking care of customer needs, and creating a healthy corporate culture. Each manager is responsible for communicating the vision to his subordinates.
Create Corporate Culture
Corporate culture is made up of the expectations, rules and norms of a particular company. For example, a company may be known for its friendliness, great employee benefits and outstanding customer service. The corporate culture of that company may include democratic leadership that encourages feedback, a positive philosophy when it comes to customer relations and a fun working environment where employees are encouraged to express their individuality. Another company may set a more traditional corporate culture where employees are expected to wear business suits to work and the culture is serious and focused.
Enforce Policy and Procedure
Policies and procedures are intended to protect employees, maintain a professional working environment and provide a structure for all members of the organization to communicate. Confrontation, conflict-resolution and disciplinary measures are key aspects to enforcing policy and procedure. Each manager observes her subordinates and provides guidelines and consequences to ensure they abide by company policies.