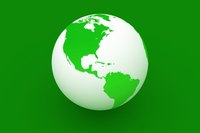 If you're trying to raise morale while emphasizing your organization's commitment to staying green, boost team spirit with some environmentally-friendly team-building activities. Whether the activities you choose directly help the environment or just use green materials, you can work a bit of your environmentalist corporate culture into future team-building exercises.
Show Off Green Thumbs
Check around your local community for areas in need of a landscaping face lift. Schools, community centers and churches often lack gardens and greenery due to poor funding. Contact the establishment you want to help and offer to donate trees and flowers; then, send your office team onsite to plant them. You can also spruce up your own office grounds. Buy some trees and send employees outside for an afternoon to plant them. Whichever planting project you choose, your team will bond as they dig in the dirt to accomplish something meaningful.
Adopt a Highway or Road
Many states have a highway adoption program through which an organization or group claims a two-mile stretch of road and commits to running three or four clean-up operations on it each year. If your group wants to help the environment, consider adopting a highway on behalf of your organization. Take employees out from behind their desks to clean the stretch of road as a team. Don't forget to hold a group lunch for the hard workers.
Orienteering
This activity will get employees out into the wilderness and the fresh air. Orienteering involves using a map, compass and key check points to race through a planned forest route. Although orienteering encompasses different forms of the sport, the most common approach is cross-country orienteering. In cross-country orienteering, stop points are established and teams develop their own routes to reach each marker, in the correct order, in the shortest amount of time possible. This activity builds collective problem-solving and teamwork skills while fostering an appreciation for nature. However, planning a route takes more time than some managers may have to spare. To make this exercise environmentally friendly, have employees carpool to and from the starting point and pick up any trash they see while on foot.
Create Trophies or Centerpieces
TeamBuilding Unlimited suggests using recycled materials to build trophies or centerpieces for your next corporate dinner or awards meeting. Don't throw out old boxes, dying pens and paper towel tubes. Use them to have teams build creative, green testaments to peoples' achievements. Give the "trophies" out to award winners at the company luncheon or dinner later. They'll mean more than conventional awards, because recipients will remember the teamwork that led to their construction.
Get Workers to Invent
Have employees split into groups with recyclable materials, including old boxes, cans and anything else you can find lying around the office. Challenge groups to make a prototype of a green invention. Although the model doesn't need to function, groups need to explain their invention's purpose to the rest of team. As per TeamBuilding Unlimited suggestions, assign extra points to inventions that relate to the company and its products.