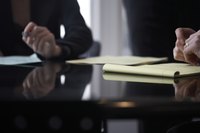 Keeping accurate minutes avoids misunderstandings. With good minutes there's no question what actions your group voted to take, or the specific wording of any proposals. For many groups -- corporate boards, for instance -- minutes are a legal requirement says attorney Steve Sowell. Someone should be designated as clerk, secretary or recording secretary. That person's minutes are the official record of what happened in the meeting.
Recording Tools
As long as your methods are accurate and reliable, any method that works for you, your group, and any relevant state laws is acceptable. That could include shorthand, tape-recording, typing or simply noting the outcome of votes and motions next to agenda items. The Business Training Works firm says that whatever method you choose, you should be prepared for problems. If you use a tape recorder, have spare tapes and batteries. If you type on your laptop, find somewhere to plug it in. If you're making written notes, have multiple pens in case one runs dry.
Record the Essentials
Robert's Rules of Order is a standard guide to meeting management. Robert's says your minutes should give the meeting's date, start and adjournment time and the location. You should also say which officers attended and whether it's a regularly scheduled meeting or a special event. Your minutes should record the motions, the votes on them, and the name of the person who made them.
Brief and Clear
Meetings are not a transcript. You don't have to record every point that was brought up but never made as a motion. This requires careful listening to weed out random opinions and side discussions from the core points. When you write the minutes, make them as concise, clear, and easy to understand as possible. Someone who wasn't there should be able to read them and understand what decisions were made and what votes were taken. The Meetings Institute recommends writing the minutes the same day as the meeting so your memory is fresh.
Ensure Accuracy
Your minutes are an official record for your group. If, say, someone sues your organization, your minutes could become evidence of what was decided. If you have to ask for a moment so you can get the facts down correctly, that's better than making errors. After you've written up the minutes, Robert's says it's standard practice to send copies to the attendees. At the next meeting, they can vote to confirm the minutes or to amend them to correct errors.