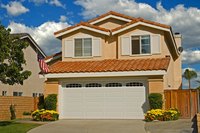 As the housing market has deflated since 2008, many homeowners are choosing to rent out second homes rather than selling them. Insurance Journal magazine reports that Allstate saw a 27-percent increase in the number of homeowners who switched from standard homeowners' insurance to landlord insurance in 2009, as compared to a year before. The risks you face change when you decide to rent out your home rather than live in it, and your insurance should change to meet those risks.
Condition
Keep your rental home in good condition. This is important not just to attract tenants and minimize exposure to lawsuits but can be essential to secure landlord insurance coverage as well. A new insurance policy will likely require a property inspection, even if the home was previously insured.
Adequate Limits
Insure your rental home with adequate reconstruction limits to cover a total loss. If you insure your home for less than the total cost to rebuilt it, you may not receive sufficient funds from the insurance company to cover a claim. Even for less severe claims, insufficient policy limits may cause financial penalties from the insurance company after a loss. The same is true for separate structures that may be on your property such as a detached garage.
Landlord's Contents
Most of the items inside the rental home likely belong to your tenants, and are covered under their renters' insurance policy if they have one. Whatever contents belong to you, such as the refrigerator or other appliances, must be covered under the landlord insurance policy. This coverage is separate from that covering the structure.
Lost Rent
If your rental home is damaged or destroyed, you will not be able to collect rent until the home is rebuilt. Landlord insurance policies pay for the lost rent during this time.
Legal Liability
Landlord insurance is specifically designed to cover legal issues pertaining to landlord/tenant relationships. It pays for injuries suffered by the tenants on your property, as well as fees and judgments for lawsuits over libel, slander, discrimination, unlawful eviction, invasion of privacy and more. Standard homeowners' insurance will not cover these types of losses.
Code Upgrades
Building code laws are always changing. Before you rebuild your rental home after a loss you may be required to upgrade it to meet current standards. The cost of these mandatory upgrades are not covered by landlord insurance unless the policy is specifically endorsed that way.
Flood and Earthquake
Flood insurance is only available through the National Flood Insurance Program offered by the federal government. Earthquake insurance is usually excluded from landlord insurance and sold as a separate policy. Know the excluded perils on your landlord insurance so you can buy the additional policies needed for your rental home.