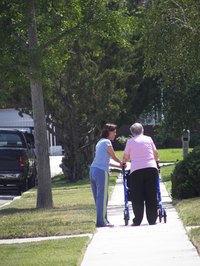 Adult day care centers, by definition in Missouri, provide care and supervision to five or more functionally impaired adults for periods of less than 24 hours, but more than two hours per day, in a place other than the client's home. These centers offer temporary respite for guardians and family members and provide the clients with the safety and care they need. Should you plan to open an adult day care facility in Missouri, state law establishes the requirements you need to follow.
Apply for a License
Submit a notarized application for License to Operate an Adult Day Care Program with the application fee of $25 for eight or fewer clients, $50 for nine to 16 clients, $75 for 17 to 24 clients, and $100 for 25 or more clients.
Alzheimer's Special Care
If you plan to offer specialized care to Alzheimer's disease patients, submit the Alzheimer's Special Care Services Disclosure form with your application for the License to Operate an Adult Day Care Program.
Staffing Requirements
Have a program director or a designated substitute present at all times. Staff providing care must be at least 18 years old. At least two direct-care staff members must be present for between two and 16 clients, plus an additional staff member for up to eight extra clients. All staff members must qualify for their positions by education or related work experience.
Medical Assessments
The care provider must require a medical assessment by the client's physician to determine restrictions on activity, dietary requirements, therapies and medications.
Care Plans
The care provider must have care plans for individual clients and stay in contact with their families or guardians regarding problems. The provider must report any suspected abuse to the Elderly Abuse and Neglect Hotline and obtain permission forms from the participants or their guardians, authorizing transportation to a medical facility.
Services
The care provider must offer at least the following: services for daily living, such as feeding and personal care; planned group activities such as recreation and social activities; food service; and observation of individual health and functional status. The care provider may also choose to offer transportation, counseling, rehabilitation and medical care.
Fire Safety and Building Requirements
The building must be safe, clean and in good repair. It must provide at least 80 square feet per client, for up to 20 of them, and an additional 50 square feet for each additional client. That doesn't include offices, bathrooms, and storage. Furniture must be easy for those with physical limitations to use. There must be one chair for each client and staff member, adequate table space, comfortable furniture, and at least one bed in a private area. The facility also must have adequate ventilation, heating, drinking water, bathroom facilities, and ramps or other means of accessibility for those with disabilities. The facility must comply with local fire codes, have a minimum of two exits in different places in the facility, contain smoke detectors and fire extinguishers, have a written fire emergency plan, and coordinate fire drills once a month.