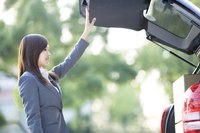 Vehicles are commonly used for business purposes. The line between business and personal use of privately owned vehicles can frequently become blurred. Using your personal vehicle for work purposes may carry insurance coverage implications, even if you are simply delivering the day's receipts to the bank during your commute home. Several factors determine whether your personal auto insurance policy will cover this use of your vehicle.
Type of Vehicle
Private passenger vehicles, such as sedans and light pick-ups, are commonly used for personal and business purposes. Several factors determine if such vehicles are covered if you use them in your work. Larger vehicles such as box trucks, tractor trailers and shuttle buses, though, require a commercial auto insurance policy even if they are privately owned and used.
Type of Usage
Most personal auto insurance policies specifically exclude use of the insured vehicle for business purposes where the vehicle is the entire business, such as taxi or limo services, or anything during which people are carried for a fee. Pizza delivery, catering and church van services are also common exclusions. Check your auto policy for specific usage exclusions.
Policy Language
Common business use that is not often specifically excluded, such as visiting clients, running work-related errands or selling real estate, may or may not be covered depending on the wording of your insurance policy. Some policies strictly prohibit business use of any kind, while others allow for certain types of usage to be endorsed. If you drive a truck, your policy may limit the gross vehicle weight of a vehicle that can be used for business.
Company Vehicle
If you are allowed to use a company vehicle during your personal time, your business should provide the primary insurance on it. Personal auto policies specifically forbid coverage on company vehicles and never cover vehicles with commercial logos or decals. However, if there's a problem or limitation with your company's primary policy, you can typically endorse your personal auto policy to cover liability on these types of vehicles. You must specifically request the endorsement, though.
Your Responsibility
While it is a good idea to contact your insurance agent or broker with questions regarding acceptable use for your personal vehicle, the responsibility ultimately lies with you. Double-check your agent's answer by reading your policy yourself. You don't want to be without coverage after an accident, so it is wise to err on the side of caution.