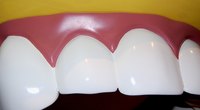 Dentists are often challenged to demonstrate to customers how their services are unique. Patients may choose a dentist based on a referral from a friend, or from family, rather than based on sampling his work. Take advantage of word of mouth advertising by starting engaging promotional campaigns for your dental practice.
Riddler
Starting a monthly riddle contest is a great way to create excitement around your dental practice. Find riddles online and post them in the front desk area for customers to see. In a trophy display case, present a prize giveaway for the patient who guesses the riddle. Inform patients that you will make the announcement via your website since patients only visit the dentist twice in the year. Optimize your website with coupons and company information in addition to your announcement of the winner of the riddle contest.
Samples in the Mail
Most of your patients are used to receiving coupons in the mail from a variety of retailers and restaurants. Send a small thank-you card to your patients following their visit, with two samples of one of your products enclosed. Be sure to hand write your 'thank you' in the note so that it appears more personal. Inform your patient that one of the samples is for her and the other is for a friend who would be interested in receiving your services. If you have a new product or service, this makes the promotional idea even more relevant to your patient.
Two For One
If you offer cosmetic services, offer your patients a 2-for-1 special on a service like teeth whitening or other treatments. Advise your patients that you can only give the discount if they bring a friend on a designated day. Ask the patient's guest to fill out his contact information so that you can keep in touch with him regarding your upcoming promotions and services.