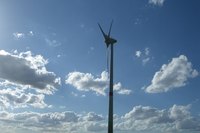 People with environmental concerns may seek to invest their money in companies whose values mirror their own. The impulse has resulted in so-called green mutual funds, which invest in such industries as alternative energy, sustainable building products and water management. Environmental principles are one component of socially responsible investing (SRI). Some mutual fund companies specialize in SRI, while large firms such as Dreyfus and Vanguard have also launched SRI mutual funds. As with any investment, read the prospectus carefully before you invest.
Appleseed Fund
The Indianapolis-based Appleseed Fund (APPLX), a mid-cap fund launched in 2006, includes environmental impact among its investment criteria. Its managers seek to balance profits with "an awareness of their impact on the environment and society in general," according to its prospectus summary on SocialFunds.com. As of mid-2010, it had $139.6 million in assets under management.
Appleseed Fund 431 N. Pennsylvania St. Indianapolis IN 46204 800-470-1029 appleseedfund.com
Calvert Global Alternative Energy Fund
Managers at Bethesda, Md.-based Calvert Funds focus their investments across a broad range of mutual funds, all based on socially responsible principles including environmental concerns, human rights and fair labor practices. The Calvert Global Alternative Energy Fund (CGAEX) derives at least 80 percent of its net asset value from "equity securities issued by companies involved in alternative energy," including U.S. and non-U.S. companies of all capitalization levels, according to the fund summary at Calvert.com. Launched in May 2007, the Calvert Global Alternative Energy Fund held $146.3 million in assets under management in mid-2010.
Calvert Funds 4550 Montgomery Ave., Suite 1000 Bethesda MD 20814 800-368-2745 calvert.com
Domini Social Equity Fund
Domini Social Investments bases all its mutual fund products on SRI principles. The $565.1 million flagship fund, Domini Social Equity (DSEFX), was launched in 1991 as a large cap, value and growth fund. Since then, the firm has introduced funds focusing on different world regions and holdings.
Domini managers evaluate each potential holding in the Social Equity Fund family "against its social and environmental standards based on the businesses in which they engage, as well as on the quality of their relations with key stakeholders, including communities, customers, ecosystems, employees, investors, and suppliers," according to its prospectus at SocialFunds.com.
Domini Social Investments P.O. Box 9785
Providence RI 02940 800-762-6814 domini.com
Pax World Global Green Fund
Pax World offers a Global Green Fund, launched in 2008, as part of its portfolio of socially responsible funds. Pax World Global Green Fund (PGRNX) is a value and growth all-cap fund which had $23.3 million under management in mid-2010.
Its environmental focus dictates holdings in "companies whose businesses and technologies focus on mitigating the environmental impact of commerce," including at least 40 percent of net assets in non-U.S. equities. "The Fund invests in environmental markets, such as alternative energy and energy efficiency; water treatment and pollution control; and waste technology and resource management," according to its prospectus description.
Pax World Funds 30 Penhallow St., Suite 400
Portsmouth NH 03801 800-767-1729 paxworld.com
Winslow Green Growth Fund
Boston-based Winslow Management has specialized in green investing since 1983, according to its website. It defines the category as companies that seek to minimize their environment impact and that "offer solutions to environmental problems," including clean energy, water management, resource efficiency, sustainable living, environmental services, green transportation and green building products.
Launched in 2001, the Winslow Green Growth Fund (WGGFX) held $223.2 million in assets under management in mid-2010. It's a small-cap equity fund that "seeks capital appreciation through environmentally responsible investing," according to its prospectus. "The Fund seeks to invest in small growth companies that have a positive or neutral impact on the environment and are poised for rapid and accelerating growth."
Winslow Management Co. 99 High St., 12th Floor
Boston MA 02110 866-804-5414 winslowgreen.com