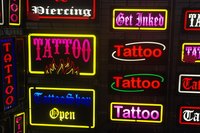 Prospective business owners must obtain a few essential documents in their pursuit of opening a tattoo shop. There are no federal laws regulating the industry, but every state has its own laws and regulations when it comes to tattoo businesses. Be sure to check with your local business bureau to stay up-to-date on current legal procedures and the necessary papers needed to open a tattoo shop.
Business License
As in most places of business, an approved and up-to-date business license from the city in which the shop is opened must be visibly posted in a public area of the building. Business owners must apply for this simple document, which distinguishes the tattoo shop as a legal place of business that is in compliance with local government ordinances.
Certificate of Health
Almost every state requires each tattoo parlor to be certified by the local board of health, which is the department of government that is responsible for developing and enforcing laws regarding tattoo shops. This important document verifies that the tattoo parlor is in compliance with all health codes and regulations regarding issues such as the types of tools used, how they are cleaned or disposed of, and the overall cleanliness of the shop. In some cases, a private doctor's certification, given on a yearly basis, is acceptable to business bureaus, but be sure to check with your local government before choosing this route for obtaining a certificate of health.
Clientelel Forms
Most states require tattoo parlors to keep detailed written records of every client that receives body art at the shop. These forms also serve as release notes, verifying that the client has been informed of the risks involved with getting a permanent tattoo. It is important to have these documents on hand before starting your tattoo business because no one will be allowed to receive body art without filling out a clientele form for the current place of business. Be prepared to present both the normal client forms and the modified version for minors to your local government for approval before you are allowed to set up shop.