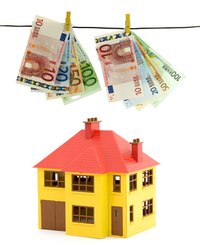 Lenders require homeowner's insurance coverage to protect their interest in the collateral for your mortgage loan. This collateral is your home, and coverage is a requirement of your mortgage contract. If you lose your insurance for any reason, it is a violation of the contract, and the lender will place forced insurance on your property. This type of homeowner's insurance coverage is very limited, expensive, and the homeowner always bears the cost.
Sufficient Coverage
Mortgage lenders require that you carry sufficient homeowner's insurance (also called hazard insurance) to cover replacement cost of the home or the amount of the loan, whichever of the two is higher. Should the home burn to the ground or suffer damage in any other way (except by flooding), the lender's interest is covered, and the loan will be paid off. A separate type of insurance covers flood damage.
Flood Insurance
If your property is located in a national flood hazard area, your lender will require that you get (and pay for) flood insurance. This is the only type of insurance which will cover flooding damages to your property. If your property is located in an area where there is hurricane activity, your lender may require a wind rider (add on) to your flood insurance policy.
Loss Payee
The lender must be listed as loss payee on the declarations page of the insurance policy. This statement shows the name and address of the lender to be paid if the home is destroyed, and the wording is such that a buyer of the loan will be covered as well. Example: Wells Fargo, 123 Fargo Way, Des Moines, Iowa 23456, ISAOA (its successors and/or assigns) ATIMA (as their interest may appear).
Start Date
The insurance policy's start date must coincide with your closing date. It could be dated a day or so early, but cannot be a day late. If you refinance your mortgage, show the lender the declarations page listing the new lender as loss payee. Your loan processor usually handles this for you, and provides it to your lender and closing agent.