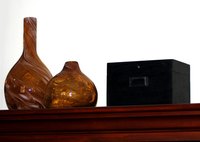 When deciding on what to sell at a retail kiosk, choose items that will appeal to the general public and that suit your talents and interests. Before seeking a kiosk or funding for the business, you should do research on the ideas you have in mind and find out if there is a demand from potential customers in your city for your products. Another way to brainstorm for ideas is by talking with your friends and relatives about what they think would be good things to sell at a kiosk.
Bridal Supplies
Open a bridal kiosk if your local mall doesn't have a bridal store and you are talented at making bridal decorations. You can also sell items such as personalized picture frames, elegantly designed stationery and guest books.
Foreign-Language Periodicals
Launch a kiosk that sells foreign-language newspapers and magazines if your community has a large immigrant population. This will help immigrants keep up on news from their native countries. For example, if you notice there's a void of resources for the African immigrant community that has grown in the past few years, you could sell materials that cater to its needs.
Vintage Music
Set up a vintage music kiosk to sell vinyl records, cassette tapes and CDs from the 1980s and 1990s. Feature music from a variety of genres such as jazz, rock, gospel, R&B and Latin music. Some good places to set up this type of kiosk include music festivals, malls or trade shows. In recent years, some people have been rediscovering music from previous decades and many of today's younger musicians are being influenced by music legends. You can earn revenue from this trend by setting up a music kiosk.