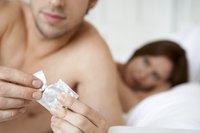 Methods of male contraception include condoms, vasectomies and withdrawal (pulling out) before ejaculation. Use of male contraception allows men to take an active role in the prevention of pregnancy instead of leaving it up to their partners. Each method of male contraception has advantages and disadvantages.
Advantages
Advantages of condoms include easy availability, affordability, ease of use and the fact that they offer protection against sexually transmitted infections as well as pregnancy. Vasectomies are more effective at preventing pregnancy than condoms and are meant to be permanent, so men don't have to worry about birth control ever again.
Disadvantages
Disadvantages of condoms include the fact that they can decrease sensation and some people are allergic to latex. In addition, while condoms do offer protection against pregnancy, other methods of contraception are more effective. Vasectomies offer no protection against sexually transmitted infections and do involve a minor surgical procedure, which, according to the Planned Parenthood website, may cost as much as $1,000. Men who may want to have biological children in the future shouldn't have vasectomies, since reversal of the operation doesn't always work. Withdrawal provides the least protection against pregnancy and is not recommended as a form of contraception.