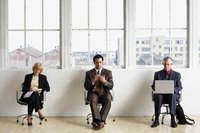 The scientific community has gone back and forth on the dangers and harmful effects of wireless network signals and technologies. As of June 2014, the common belief is that Wi-Fi signals and routers pose little risk to humans, but there may be some special cases such as damage to sperm or cumulative radiation. When reviewing a new study, ask yourself if the Wi-Fi signal is the most likely culprit for any harmful effect or if another factor may be more dangerous.
Wi-Fi Concerns
Wireless networking technology transmits very low-intensity radio waves on a wavelength similar to that of microwave radiation. Radiation output often causes concerns among consumers, but health groups such as the UK Health Protection Agency note that Wi-Fi signal radiation is roughly 100,000 times less intense than your microwave's. Radiation output has similarly caused concerns over cell phone usage; humans receive a year's worth of Wi-Fi radiation exposure in a single 20-minute phone call.
Cumulative Radiation
Wireless signals are similar to many emissions humans encounter every day, such as those from cell phones, digital TVs, Bluetooth devices and other wireless technologies. While not individually harmful, health agencies in Canada and the UK say there may be a risk to children who are continually exposed to multiple high-radiation sources for periods of 10 years or more. Most children will never reach these exposure levels and there's no evidence that Wi-Fi signals alone pose any risk to schoolchildren or adults, says the Canadian government's Health Canada service.
Heat or Radiation?
In December 2013, a group of students in Denmark published a popular study in which they tried to emulate the dangers humans face by growing plants near wireless routers to test the impact of their radiation. During the experiment, most of the seedlings grown in a room with the Wi-Fi equipment died with 12 days. However, scientists have pointed to the heat caused by the router and computer equipment as the most likely reason for the death of the seedlings. "Scientifically there's no evidence to support that these signals are a cause for concern," Temple University professor Marvin Ziskin told The Daily Mail in that same month.
Sperm Damage
A 2011 study published in "Fertility and Sterility" found that exposure to a wireless Internet-connected laptop for four hours could damage a man's sperm. In the study, sperm observed after the exposure had reduced mobility and were more likely to contain DNA fragmentation, which can be a cause of infertility. However, heat may once again be the true problem. Men in the study rested the laptops on their laps and the significant heat generated by the device is a serious risk factor for poor sperm quality, fertility expert Dr. Allan Pacey told the BBC.