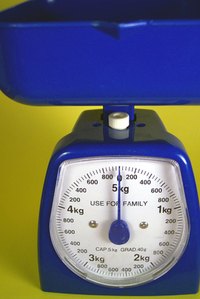 Weight can be measured by different tools, such as a scale, depending on the size of the item. Small scales exist for measuring tiny amounts, like grams, and bigger scales are used for measuring pounds and kilograms.
Pocket Scales
Pocket scales became popular between 1848 and 1855. Gold miners carried pocket scales with them for weighing their gold. Pocket scales today are used for many things, including weighing jewelry, food and coins. Most pocket scales can weigh items up to 500 grams.
Bathroom Scales
Bathroom scales are used for measuring the weight of humans. Most people have a scale in their bathroom, either an analog scale or a digital scale. Analog bathroom scales have a meter which turns to show users an approximate weight, while digital scales are thought to be more accurate in telling an exact weight. Most bathroom scales have a capacity of around 330 pounds, although some scales are created for high capacity up to and above 400 pounds.
Industrial Scales
Industrial scales are large scales used for measuring the weight of machinery and other large items. These scales can handle large amounts of weight and are used on items such as airplanes, trucks and barrels. Some scales can be used on the floor, while others can be used for weighing overhead items.
Baby Scales
Baby scales are found at most doctors' offices and are designed to fit the shape of even the youngest babies for accurate measurements of weight. These scales have a platform that is low in the middle with raised edges to help prevent babies from falling. These scales are used on infants until they are able to stand on a bathroom type scale alone. Some baby scales can measure up to 33 pounds.