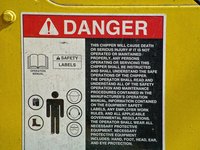 Not only are safety standard procedures in manufacturing important for your employees' well-being, but following proper safety guidelines can help you avoid fines by the Occupational Safety and Health Administration (OSHA) or other government agencies. Taking safety precautions can also reduce the risk of lawsuits by injured employees and reduce the cost of worker compensation benefits and absenteeism by injured workers.
Safety Signs
Safety signs are one of the most important procedures to implement in a manufacturing plant. Instructions explaining the key operating procedures for machinery, and warnings such as emergency stops and electrical hazards, can keep your employees from being injured. Signs specific to certain machinery should be placed next to that machinery. For general safety precautions, place signs where they will be visible to all employees. If you have employees who speak languages other than English, make sure everyone understands the signs, perhaps by using graphics rather than words.
Training
Proper training of employees is a must in a manufacturing plant. Before any employee is assigned to operate a machine, he should be adequately trained and tested on its use. You should also provide machine operators with manuals that include safety procedures, drawings showing the parts of the machine, possible dangers the machine presents and manufacturer contact information. Employees should also be trained how to properly lift objects, what protective gear they must wear and how to correctly dispose of hazardous materials. Supervisors and other team captains should be trained in first aid and CPR.
Machinery and Plant Safeguards
If an emergency occurs, you need to have methods to shut down machinery and possibly all power coming into the plant. Machine shut-off switches should be prominently displayed and within easy reach of the operator. Safety guards should be installed on machines to protect employees from accidentally putting a hand or other body part into the working parts of the machine. If your company uses hazardous substances, you should also have a procedure in place to deal with a spill.
Safety Checklist
The best way to make sure you cover all safety procedures is to create a checklist and have routine inspections and safety drills. The list should include OSHA compliance requirements for your industry. You'll want to list any chemicals, their proper labeling, their potential hazards and how to dispose of them. Create a list of items that require maintenance, such as electrical wiring. Also, keep a list of protective equipment each employee needs for her particular job.