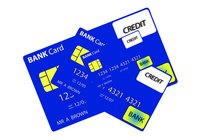 A social security number (SSN) is a nine-digit number issued by the Social Security Administration to all U.S. citizens, permanent residents and temporary working residents. The purpose of a social security number is to track individuals for taxation purposes. Federal law requires private businesses to collect an SSN when the Internal Revenue Service requires notification of the transaction (See Reference 1). Banks and other financial institutions require individuals to provide an SSN when engaging in financial transactions.
Opening an Account
Banks are required by federal law to participate in a Customer Identification Program for the opening of new accounts. Individuals opening up a checking account, savings account or renting a safe deposit box are required to provide the bank with a valid name, date of birth, current mailing address, and a social security number. Banks are required to verify the accuracy of the information by also requesting proof of identification in the form of a driver license, passport or by contacting a credit reporting agency that would have information on file based on the SSN. Banks check the SSN against government terror lists, to limit terrorist financing and fight against money laundering.
Applying for a Credit Card
Credit card applications administered through banks require social security on applications. The SSN is used to verify the identity of the individual applying for the credit card and line of credit. An individual's ability to repay the loan is very important to the bank and checking past credit accounts, balances and employment will allow the bank to decide credit worthiness and grant or decline the credit card application. The amount of the credit line and the terms and annual percentage rate will all be determined by the information already on file with the credit bureaus under the social security number given.
Mortage Loans
Individuals wishing to obtain a mortgage loan from a bank to buy a house will have to supply a social security number and other qualifying materials. Credit files stored with the three credit reporting agencies, Experian, Equifax, or TransUnion are accessed by banks using the SSN. A credit score based on credit history, debt amounts, credit card balances, other major debts purchased are all provided to the bank for determining the mortgage loan amount. Previous credit history also determines the interest the borrower has to pay on the total loan amount. Length of employment, bank balances and the use of a co-signer can also be taken into consideration when getting approved for a bank loan.