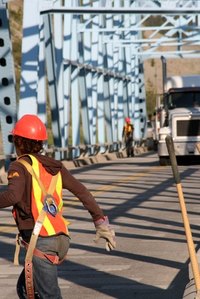 The potential for accidental falls exists in any type of workplace. Fall protection plans can help minimize this risk, especially in jobs where the workers work in high places such as construction sites. All workers must understand the fall hazards in their workplace. A well-designed plan enables workers to complete their jobs safely, which increases job productivity, according to Construction Solutions.
Safety Monitoring
The U.S. Occupational Safety and Health Administration recommends that companies with fall hazards establish a fall protection plan that includes a safety monitoring system. One designated safety monitor should watch over no more than six employees in an area with fall hazards. The safety monitor should wear a different colored hard hat to make him easily recognizable as the safety monitor. At the start of the business day, the safety monitor should discuss all fall hazards for the day, and he should discuss ways to prevent falls. Throughout the day, the safety monitor must remain within eyesight of workers in the fall zone, and he must be able to clearly communicate with the workers at all times.
Control Zone
A fall protection plan also should set aside control zones that allow workers to perform their work without fear of falling. Control zones may have temporary barriers or more permanent fixtures such as guardrails. Barriers around the control zone should include signs that warn about the potential fall risk. The recommended height for barriers is at least 39 inches (1 meter). The barriers in the control zone must be able to stop at least 200 pounds.
Personal Fall Prevention Systems
Safety harnesses and safety nets add extra measures of safety. Harnesses worn around the body can help a worker regain footing, prevent him from falling or stop him from falling more than a short distance. Safety monitors are in charge of ensuring the harness works properly. Safety nets ideally should be placed less than six feet below the work zone. Depending on the work site, it may be difficult to retrieve the worker from the net. Some sites, such as those with heavy equipment nearby, may not be conducive to safety nets. With either prevention system there is an increased risk if more than one person falls off the work platform at the same time. Harnesses may tangle or the safety net may not hold the weight of two people.