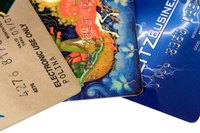 Credit cards have become a popular and effective way of managing your personal finances. However, each country has different laws and standards regarding credit cards, and it is important to be familiar with them for your own protection. When you're in the Phillipines, knowing the law will keep you from being defrauded or otherwise taken advantage of.
Application Laws
Any credit card application or solicitation in the Philippines must disclose the annual percentage rate, any annual fees, how the balance is calculated, the cash advance fee, and the fee for going over the credit limit. If the annual percentage rate changes with the size of the balance, each rate must be disclosed. These disclosure laws apply to any form of contact, and must be expressed in writing or orally to the consumer before they may complete an application.
Disclosure Prior to Renewal
All credit card companies in the Philippines are required to inform customers with cards about to expire when their card will be invalid, any changes to fees or interest rates, and any necessary information the customer may need to permanently terminate the account without paying any fees. If the rates and fees are not changing, there is no legal requirement to disclose them to the customer, as under the law they have already been disclosed.
Punishments
Failure to comply with any disclosure laws in the Philippines will result in a suspension or cancellation of the company's ability to distribute credit cards in that country. This will also apply to any companies that disclose their customer's names, addresses, or credit card numbers without that customer's permission. Permission to do so must be obtained in writing or orally from the customer, and a record must be kept to show the company has this permission.