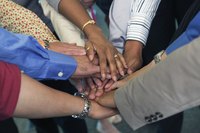 Conflict in the workplace has the potential to derail productivity, create animosity between staff members and even result in a hostile work environment if left unresolved. Team-building activities aimed at reducing conflict can help employees see things from one another's perspective, clear the air and provide a safe environment for working out differences.
Conflict Mediation Exercises
In some instances, staffers or team members may have personality conflicts or simply rub each other the wrong way. Small issues, left unresolved, can turn into bigger issues that impact others and hurt work product. Conflict mediation with a qualified human resources representative can help get to the heart of the matter. Counsel staffers individually to get each individual's perspective about the issue to be resolved. Next, bring staffers together and reiterate each person's perspective on the issue at hand. Allow time for clarification, rebuttal and productive discussion aimed at resolving the dispute.
Role-Playing Exercises
Role playing can be an effective activity for resolving conflict, particularly within a group or team setting. Set guidelines for how role-playing exercises will unfold, ensuring that the activity will be beneficial in sharing perspectives and shedding light on problems without allowing staff members to ridicule or make fun of each other. For example, if an event planning department continually misses deadlines set by a marketing or promotions department, designated "actors" can recreate the troublesome scenarios and ask for input from the crowd about creative ways to address the conflict.
Fun Group Activities
Sometimes, getting out of the workplace and into a fun or relaxing space can help reduce inhibitions and allow team members to bond outside the workplace. Consider an event during work hours such as a zip-line tour or ropes course in which team members must help one another through physical obstacles. Go bowling or play miniature golf and create new teams each round so colleagues are encouraged to work together.
Perspective Sharing
Host a group brainstorming session in which common disputes are the topic of discussion and everyone is invited to participate in troubleshooting. For example, "We're having a problem with people showing up late for their shifts and making their colleagues on the early shift stay later. Any ideas for what we can do to change the situation?" Make every effort not to call out specific departments or individuals, and mediate the session to ensure no one is picked on or made the butt of harsh comments during the event.