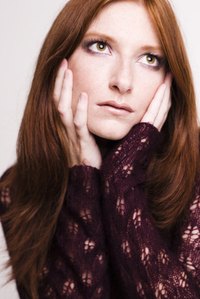 Flatirons direct high heat onto the hair shaft to flatten hair into a straight style. However, flatirons can be used for a variety of hairstyles; they're not just for stick-straight strands. They heat up quickly and allow you to create a variety of styles in just a few minutes. Before using a flatiron on any hairstyle, you should spritz a heat protectant spray on your hair to reduce damage caused by the high heat of the iron.
Soft Waves
Curling irons tend to create ringlets and bouncier curls. If you want soft waves, try using your flatiron to give you a more muted version of the classic curly style. Use your flatiron exactly as you would a curling iron: clamp the end of a section of hair between the plates of the iron, and roll the iron up the hair toward the scalp. The hair will wrap around the outside of the flatiron. Release for soft waves that you can let hang loose or style into an updo.
Flipped-Out Ends
A timeless hairstyle is straight tresses with the ends flipped up. This look can be done in a retro style, with a bigger flip on the ends, or a modern look, with a softer, less bouncy flip. On one section of hair, run the flatiron over the bottom 1/3 of the hair shaft. At the end, while the hair is still clamped in the flatiron, roll the flatiron upward, just as you would do with a curling iron when curling hair. Stop when about two to three inches of hair are rolled around the iron. Release and repeat on all hair until you have a flip on the ends. This works best on hair that is at least chin-length or longer.
Straight Ponytail
For an easy look that takes less than 5 minutes to create, opt for a straight, sleek ponytail. Pull all hair back and secure in a ponytail with a hair elastic. Divide hair into three sections (more if you have thick or a lot of hair) and run the flatiron from the base of the ponytail to the ends. You'll have a straight, smooth ponytail that goes from day to evening with minimal effort.