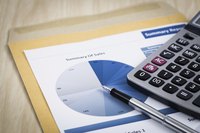 In 2013, the top 50 market research firms in the world earned revenue of $9.8 billion, according to the American Marketing Association. That represents an increase of 3.7 percent over 2012 revenue. It also represents the bulk of the combined $10.7 billion earned by all the for-profit market research companies. About 57.3 percent of the top firms' earnings came from non-U.S. revenue.
Industry Leader
Nielsen ranked No. 1 in the 2014 AMA Gold Top 50 Report. Its purchase of Arbitron in 2013 helped boost its position, as the worldwide market research giant now controls about one-third of the revenue of the top 50 firms. Nielsen, known for its TV consumer ratings reports, has clients in more than 100 countries. The No. 2 through 10 spots were filled by Kantar, IMS Health Inc, Ipsos, Westat Inc., Information Resources Inc., GfK USA, comScore Inc., The NPD Group Inc. and Symphony Health Solutions.
Syndicates Take the Lead
Syndicated services firms hold nine of the AMA's top 50 rankings in 2013. Those firms typically have stable earnings because they rely heavily on long-term contracts. Besides Nielsen, other such firms among the top market research companies include JD Power and Associates, NPD Group, Arbitron (now under Nielsen), comScore, IMS Health, IRI, National Research Group and Rentrak. Each saw significant increases in revenue and earned about half the total revenue among the top 50 firms. The remaining companies on the AMA list are mostly survey-based providers, which aren't bolstered by continuing contracts and therefore have more volatile revenue streams.
Productivity Increased Earnings
It's the employees who generate the earnings that catapult companies into the top rankings each year. Staff members at the research firms have been increasing the amount of revenue they generate steadily since 2004. In the previous nine recorded years, employee revenue generation grew about 38 percent to $274,000 per employee. The top 50 firms employed a combined staff of 35,826 employees in 2013.
Changes and New Definitions
New sectors in market research will change the scope of top rankings in the future as companies such as Google, Facebook and IBM become considered for inclusion. Broadening the definition of market research to include social media, electronic ad targeting and marketing mix modeling takes into account the growing prominence of these Internet-based companies. Many of the new firms scour the Internet analyzing online text to understand consumer behavior and are adding about $700 million annually to the overall market research pot.