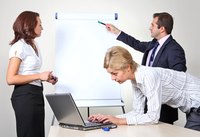 Many companies use team-building activities and games to encourage teamwork, create employee motivation and cultivate personal development. Employee motivation is the most common benefit that surfaces from well-run team-building games. There are a variety of games to choose from when it comes to team-building activates. The key is to choose the games geared toward your employees' personality types.
Stress Exercise
This game is a great way to demonstrate the effects of stress on the team and how they handle it. Split employees into teams of 8 to 10 people and have them sit in a circle. Each team needs five balls, all different sizes and weights. Introduce one ball and have the team toss the ball to each other, in any order they want. The ball represents a task. A dropped ball represents a failed task. Introduce a second ball, representing another task. Now they must learn to handle more than one task. When the team is able to manage the first two balls, continue to introduce more balls one by one and equate each new ball to work situations and complications. Eventually the team will not be able to manage all five balls, creating a bit of chaos. Discuss how the game experience relates to their work environment and how to improve effective teamwork and communication.
Colors Exercise
This is a simple game intended to reveal individual perspectives and emotional triggers as well as show how people frequently have different views of the same thing. This is a key component to understanding empathy. Management and work relationships depend on our being able to understand someone else's view, and what causes their view to be different from our own. To demonstrate this, have each person close his or her eyes and imagine the days of the week. Tell them to write down the color they perceive for each day. Review and compare each other's color associations and review these differences.
Quick Plan Exercise
Many companies have quarterly or yearly goals. This game is a good way for employees to consider new plans, or renew a commitment toward a change. Often times commitments succeed when a plan is in place. For this game, have each employee think of and write down a commitment or change he or she wants to make. Ask them to identify the steps necessary to achieve their goal and share these steps with each other. Some will notice they have the same goals; have them work together, creating a team effort to attain the goal.