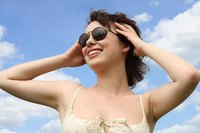 During the summer season many women like to wear sleeveless tops and dresses, but are ashamed to do so because of darker-than-usual underarms. There are many things that can cause an abnormal darkening of the underarm area and each of them can be treated so that affected people can go back to showing off their upper arms and shoulders.
Skin Condition
The condition known as Acanthosis nigricans may cause a darker-than-usual hue in your underarms. According to DailyGlow, this condition "produces brownish-gray velvety patches." It may be caused by weight and glandular problems, or insulin levels. Thebeautybrains.com suggests lowering the amount of insulin in your diet and using "Retin-A, 20% urea, alpha hydroxyacids, and salicylic acid prescriptions" to decrease the darkness.
Infection
The bacterial infection erythrasma results in dark armpits. Dermatologists can test to see if a person has this condition by shining a kind of light on the dark areas to see if they shine with an orange hue. Antibiotics applied topically or taken orally can help to cure this infection. The infection typically affects only one of your underarm areas.
Shaving
After having shaved many people are surprised to see that their underarm regions are abnormally dark, but the roots of hairs shaved on the surface frequently show through skin and make the area shaved appear darker. Indiaparenting.com suggests scrubbing the area with a pumice stone, or switching to waxing as a replacement hair removal method.
Dead Skin
Dead skin sells can collect in your underarm regions and produce darker-than-normal hues. Exfoliating may help to alleviate these concerns. Waxing, as an alternative to shaving, may also help to remove the dead skin while removing the hair by the roots and also preventing the problem of having dark underarms caused by hair roots left behind after shaving.
Deodorant
Sometimes the chemicals and fragrances contained in deodorants and antiperspirants are blamed for causing darker-than-normal underarms. Switching the brand of deodorant or antiperspirant may help to clear up the darkness, but Indiaparenting.com suggests trading them for anti-fungal powder instead.
Hyper-pigmentation
Thebeautybrains.com states that some people have medical conditions that result in the over-production of melanin in the body, but they also go on to say that this condition "doesn't usually affect armpits." If it does happen, skin bleaching should help to treat the condition, but speak with your dermatologist first.
Other Causes
Other causes for dark underarms have been cited on the Home Remedies website. These include friction caused by wearing tight tops and shirts that rub against your underarms. Excessive sweating may also result in darker-than-normal underarms.