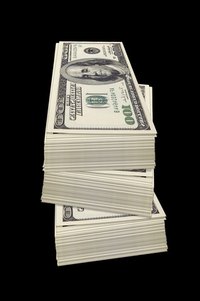 Unless you win the lottery or receive a large inheritance, the process of creating wealth is not something that happens overnight. Accumulating wealth normally requires many years of careful, systematic investing while limiting expenses to free up as much investment capital as possible. To help you accumulate wealth, a few basic strategies may be of benefit.
Pay Yourself First
Saving money is an important component to accumulating wealth. If it seems like you never have enough money saved to invest, develop a systematic savings program where money goes straight into an investment account. For example, if you have a 401(k) retirement plan at work, have 10 percent of your gross income from each paycheck automatically deducted and placed into the plan.
Choose Comfortable Investments
When choosing where to invest your money, be sure to select investments that match your tolerance for risk. If your risk tolerance is low, stay away from investments like volatile stocks or real estate speculation. Lower-risk investments such as money market funds can still provide you with steady growth of your money over time.
Diversify
Diversify your investments to include a variety of investment vehicles such as stocks and bonds. One way to accomplish this is to purchase mutual funds, which invest in several different stocks or bonds instead of just one or two, which spreads out your money. Diversification limits the risk of losing all of your money if one investment area suffers heavy losses.
Eliminate Debt
If you're carrying a large amount of consumer debt such as high-interest credit cards, develop a strategy to reduce your debt load. Consider taking out a home equity loan to reduce your interest rate, or focus on paying off each card one at a time. Put all available resources into paying off the card with the highest interest rate, then move to the one with the next-highest rate, and so forth. The less debt you're carrying, the more money you'll have to invest.
Create a Budget
By creating a budget and sticking to it, you'll eliminate wasteful spending and likely find more dollars available for investing. To eliminate the feeling that you're depriving yourself, target a small portion of your monthly budget (no more than five to 10 percent) for discretionary spending. Any money that's left over can be placed in the investment of your choosing.