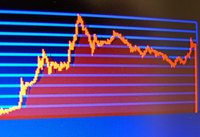 Analyzing the stock market is a complex process and many tools are often necessary to gain accurate predictions of price action. Brokerage services often provide advanced trading platforms with many analytical features, but these are only available to clients and sometimes still require a monthly subscription fee. However, the evolution in personal computes and the development of the Internet has led to many powerful stock market analysis tools existing for free online. All you need is a Web browser.
BigCharts
The BigCharts service is an online stock market charting and analysis platform that anyone may use for free and without registration. BigCharts provides three charting systems. The "Basic" chart interface simply shows price charts of any ticker symbol you enter. However the "Advanced" chart includes many advanced analytical tools. You can graph technical indicators such as moving averages or "oscillator" studies, which measure price momentum. For the most efficient experience, the "Interactive" chart type allows you to zoom in and expand time periods on-the-fly for closer inspection of stock charts. The features provided by BigCharts are similar to many trading platforms and are common tools used by a stock market investors around the world.
StockCharts
The StockCharts service is another free online analytical platform for studying the stock market. This service also provides many common technical analysis indicators, including moving averages and oscillator studies. But StockCharts also offers innovate charting features that even many professional subscription-based services do not provide. You can create "Point & Figure" charts which graph stock prices based on changes in trend rather than based on time. The "Gallery" view is a quick way to access daily, weekly and point & figure charts all on one page. A "Performance" chart allows you to quickly analyze a stock's percentage returns by graphing the vertical chart axis based on performance rather than price. All these features are available for free.
Yahoo! Stock Screener
Yahoo! Finance is a financial services portal that contains stock quotes, charts, news and other useful features. In particular, the Stock Screener is an advanced Java-based tool that allows you to quickly filter through thousands of stocks to fine potential investment candidates. The screener accepts more than 150 criteria in your filter. This is a tool that resembles professional stock screening software, yet it is available online for free.