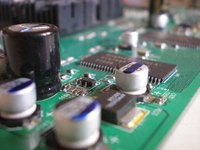 Two of the world's leading computer software companies are relatively young, having been created in the mid-1970s. The other leading company has been in existence for more than 100 years, but it got its start in office and business machines. In addition to producing software, all three of these companies have one thing in common: They bring in annual revenues in the billions of dollars.
Microsoft Inc.
Microsoft Inc., which employs about 93,000 people, is the top-rated software company in the world by Software Top 100. Microsoft is a relatively young company that was founded in 1975. The company's staple is the Windows computer operating system. One of Microsoft's most lucrative divisions is the Entertainment and Devices Division, which includes the Xbox video game system and its related products. Microsoft posted net revenues of more than $58 billion in fiscal year 2009.
Microsoft Corp. One Microsoft Way Redmond, WA 98052-7329 425-882-8080 Microsoft.com
International Business Machines
Founded in 1896, International Business Machines is the second-ranked software firm in the world by Software Top 100. IBM has a worldwide workforce of almost 400,000 employees. In addition to producing hardware and software products, IBM offers technology-related consulting services. IBM posted total revenues of almost $96 billion in fiscal year 2009. According to Software Top 100, IBM received more than 4,900 U.S. patents in 2009, more than any other company. The company with the second-most U.S. patents received around 3,600.
IBM New Orchard Road Armonk, NY 10504 914-499-1900 ibm.com
Oracle Corporation
Oracle is the third-ranked software company in the world by Software Top 100. Oracle, which employs about 73,000 people worldwide, is the leading company in the production of information management software. Oracle, which annually posts revenues in excess of $10 billion, developed the first portable database in 1983. Oracle's popularity is evidenced by the fact that each of the 10 largest websites in the world use Oracle.
Oracle Corp. 500 Oracle Parkway Redwood Shores, CA 94065 650-506-7000 oracle.com