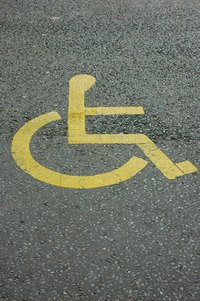 The Americans with Disabilities Act, passed in July 1990, prohibits discrimination of the disabled by private and public business and organizations in the United States. The Department of Labor has four federal agencies to enforce the laws related to the ADA. Private parties can file discrimination lawsuits if their rights are violated. The five areas, or titles, deal with issues related to employment, communication, transportation, activities by the government and public accommodation, such as drinking fountains.
Fountain Height
In order to accommodate the immobile disabled as well as the mobile, the ADA requires drinking fountains to measure 36 inches from the floor or ground surface to the spout of the fountain. A 36-inch measurement meets the ADA wheelchair guidelines for an adult wheelchair; a 27-inch lap height and a 30-inch allowance for wheelchairs with armrests.

Clearance
The ADA requires accommodation to ensure clearance for the wheelchair. Even if the height is correct, persons in wheelchairs must be able to get under wall-mounted drinking fountains. The installation of the fountain must take into consideration the angled footrest and the length of the wheelchair. The ADA fountain requirements include measurement for lap, knee and toe clearance. Fountains that do not have clearance space under them must have clearance for the wheelchair to make a 180-degree turn. In facilities used primarily for children under age 12, there are exceptions to the ADA requirements related to water fountains.
Spout
The spout should allow for a flow of water at least 4 inches high to accommodate a drinking cup. It should be parallel to the front of the fountain unit, no farther than 3 inches from the edge.
Controls
According to the ADA, the controls used to operate the drinking fountains can be either front-or side-mounted as long as the controls are close to the edge. The person using the fountain should be able to operate the control mechanism with one hand. The operating force according to the ADA should "be no greater than 5 lbs." and "shall not require tight grasping, pinching or twisting of the wrist."
Additional Information
Facilities that must meet the drinking fountain requirement of the ADA include public and private entities such as, hotels, schools, libraries, parks, zoos, malls, retail stores, doctor's offices and medical facilities, convention centers, restaurants, day cares, spas, local pharmacies, dry cleaners, warehouses and factories. This section of the ADA does not cover religious institutions.