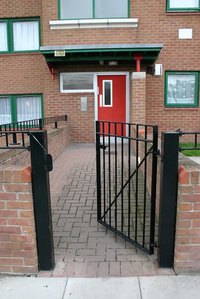 More than 9,500 individuals and families are homeless on any given night in Detroit, Michigan, according to the nonprofit Coalition on Temporary Shelter (COTS). There are many reasons for homelessness, which a variety of organizations seek to address. Those with physical and mental limitations, former criminal offenders, and needy individuals and families can obtain transitional shelter until they find permanent homes.
Assisting Families
HomeGain Housing First for Families is a new program that seeks to provide 47 homeless families in the Detroit metro area with rental assistance for up to two years. Each household will be subsidized in the amount of the difference between 30 percent of a family's income and the fair market housing rate for their home.
HomeGain Housing First for Families COTS Detroit 26 Peterboro Detroit, MI 48201 313-831-3777 www.cotsdetroit.org
Assisting Individuals
The Transitional Services Program offers single room occupancy for men and women who need a home. Individuals may stay up to 24 months at one of three TSP sites. Clients must leave a key deposit and contribute 10 percent of their wages toward rent.
Transitional Services Program COTS Detroit 26 Peterboro Detroit, MI 48201 313-831-3777 www.cotsdetroit.org
Assisting Ex-offenders
The purpose of the Michigan Prisoner ReEntry Initiative, covering counties throughout Michigan, is to assist male repeat offenders in securing and maintaining housing. Included in the program are transportation, meals and support services provided by COTS organizations.
Michigan Prisoner ReEntry Initiative Berrien, Cass and VanBuren counties Todd Berger 499 W. Main St. Benton Harbor, MI 49022 269-927-1799 ext. 1138 www.michpri.com
Assistance for the Mentally Ill
Omega Project offers 30 sites throughout the Detroit area for clients who are chronically mentally ill. The program is the result of collaboration between COTS and Development Centers, Inc. (DCI), COTS provides and maintains housing while DCI provides care for clients three to four times a week.
Development Centers, Inc. 17321 Telegraph Rd. Detroit, MI 48219 313-531-2500 www.develctrs.org
Catering to All in Need
Shelter of Flint is a transitional housing program that provides individuals and families with apartments and homes for up to 24 months. Clients also have access to workshops, case management counseling, a pre-GED course and employment skills development services.
Shelter of Flint 902 East Sixth St. Flint, MI 48503 810-238-4711 www.shelterofflint.com