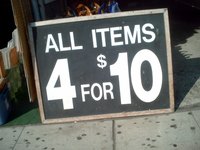 Retail promotions can be an effective way to hold on to existing customers or bring new business into your store. Retail promotions can include special pricing on merchandise or other forms of incentives that entice shoppers. You can also promote yourself and your business by positioning yourself as an expert in your field.
Write an Article
Contact your local newspaper about writing an article that can be of benefit to potential customers. For example, if you own a pet store, write an article about how to care for certain types of animals or signs to look for that a pet you're thinking of purchasing may not be healthy. The result can be free publicity for your store as well as positioning you as a helpful expert.
Hold a Contest
A contest can be an effective way to get people into your store as well as attract attention. If possible, tie the contest to the type of products you sell. For example, if you own a music or electronics store, hold a karaoke contest and use a panel of local celebrities as judges. Award the winner a musical instrument or electronics equipment.
Referral Program
Make use of your existing customer base to start a referral program to bring in new business and make current patrons feel appreciated. Each time a customer refers somebody new that makes a purchase, give her 10 percent off the price of her next purchase.
Conduct a Seminar
If the use of your store's products requires technical or mechanical knowledge, conduct a seminar to attract people to your store. A hardware store could sponsor a seminar demonstrating a do-it-yourself household project. Work with a product manufacturer that could co-sponsor the seminar and also provide discounted merchandise as part of the promotion.
Birthday Recognition
Build a database of your customers and include their date of birth as part of the information. Send them special coupons or "VIP sale" information a few days before their birthday and offer a free gift if they come in and make a purchase. Mail them a gift card that they can use on their birthday or at any other time during the year.