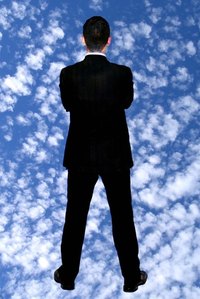 A good startup business idea is one that does not require a large initial investment, can be worked part-time so that you may keep your full-time job to pay your bills and offers the potential for growth into your own full-time business. Take some time to consider a list of good startup business ideas and know your options before you commit your resources to becoming an entrepreneur.
Landscaping
If you own a lawnmower, a weed trimmer and a reliable vehicle to transport those two items, then you can begin a landscaping business of your own. Start out by offering to cut lawns and edge sidewalks in your spare time. As your business starts to grow, take classes on landscaping from your local college to learn how to add services to your business, such as landscape development and design. A gardening business can be one that gradually grows from just you and one helper to a full-time company that services several clients. If you live in an area where it snows during the winter, consider adding snow removal services to your business so that it may be a year round venture for you.
Delivery Business
A delivery business may be an ideal small business to start because you can begin with a very limited delivery radius and keep your number of clients low to reduce the amount of time you spend on the road. Be sure to discuss your vehicle coverage with your insurance agent to ensure that your policy protects making deliveries for customers. You may need to purchase additional liability insurance for the value of the packages that you will be handling. Regardless, it is advisable to upgrade your insurance when dealing with customers' important deliveries. Begin small, and, as word of your business grows, you may expand to a larger delivery radius and begin to take on more clients.
Vending Machines
The most difficult part about owning a vending business is finding good locations for your machines. Once you have secured where they will be placed, you can service and refill your machines on your schedule. When you are ready to expand your business, find more locations and then put your new machines in place. A vending machine operation will allow you to keep your existing day job and still give you the time you need to grow your own business. Before you begin, scout around your local area to find good locations for vending machines. Be sure to attract business by offering name brand products for items such as soft drinks and snacks.