Moving into their first apartment is a rite of passage for many young adults. As exciting as it is, it's also overwhelming. You can purchase some items before you move in, such as a bed with the correct-size bed linens, while other items, such as an area rug, you can wait to buy when your budget allows. Be open to inheriting hand-me-downs; you can always cover mismatched chairs and sofas with slipcovers and use paint to add your style to old tables and bookcases.
(Wavebreakmedia Ltd/Wavebreak Media/Getty Images)
Outfit the space near your front door with functional and stylish items. Hang hooks to hold jackets and bags, and place a small table, complete with a lamp and bowl for keys, against a wall. Make sure that the lamp is easily accessible, so you're able to turn it on when returning home late at night. If space permits, hang a mirror on the wall so you can check for lint or stray hairs on your way out the door in the morning. Lay down a rug that traps dirt and water, and provide a sturdy boot tray for your shoes.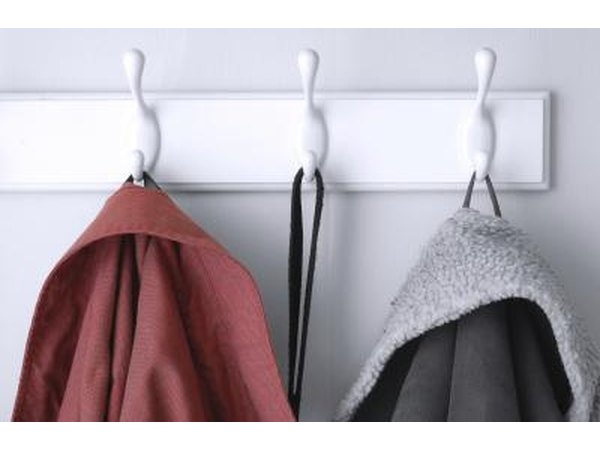 Stanislav Fadyukhin/iStock/Getty Images
Designate one space, either in the kitchen or in a closet, as your utility space. This is the go-to spot where you'll store your emergency and repair supplies. The space should include flashlights, batteries, candles, a first-aid kit, fire extinguisher and toolbox. The toolbox should contain a hammer, nails, a flat-head screwdriver, Phillips-head screwdriver and a picture-hanging kit.
Pixsooz/iStock/Getty Images
Equip your kitchen with the proper tools to feed yourself and your guests. Invest in cutlery and a matching microwave-safe dish set to accommodate four people. The set should include bowls, salad plates, cups and dinner plates. Also, purchase at least four of the following: juice glasses, which can be used for mixed drinks; drink glasses, which double as beer glasses; and wine glasses, which can also be used to serve mousse or pudding. Look for prep tools such as a cutting board, a set of different-size glass prep bowls that double as serving bowls; a knife set in a butcher block stand; measuring cups; colander and an immersion blender. Use the blender to blend smoothies and make soup. Other tools include a skillet, one large pot for pasta and one smaller pot for veggies, as well as a microwave and coffeemaker or teakettle. A trash can that properly fits the space and stores at least three days worth of trash is a must. Also designate a spot to store your preferred cleaning supplies, which includes an all-purpose cleaner, window and glass cleaners, and paper towels.
woolzian/iStock/Getty Images
Create a comfortable and versatile entertaining space with several key pieces. Start with a comfortable couch or futon, that doubles as a guest bed, flanked on both sides with butler's tray tables. The tables are both serving trays and movable dining surfaces. If space permits, use a coffee table with built-in drawers or an opening underneath so that you can store two seating poufs or cushions. A flat-screen television with a streaming media player keeps digital music and movies at your fingertips. Swap out the college dorm wall art with artwork that's not a poster, such as photographs of family or past trips.
Monkey Business Images/Monkey Business/Getty Images
Invest in a bed with a decent mattress as well as a bedside table, or two, with one drawer to store private items and a lamp for ambient lighting. Stash clean clothes in a bureau, an armoire or on a movable clothes rack, and toss dirty clothes in a hamper or laundry basket. Store essentials such as clean towels, clean sheets and blankets in a closet. Finish the apartment with easy-to-maintain, machine-washable window treatments that offer both style and privacy.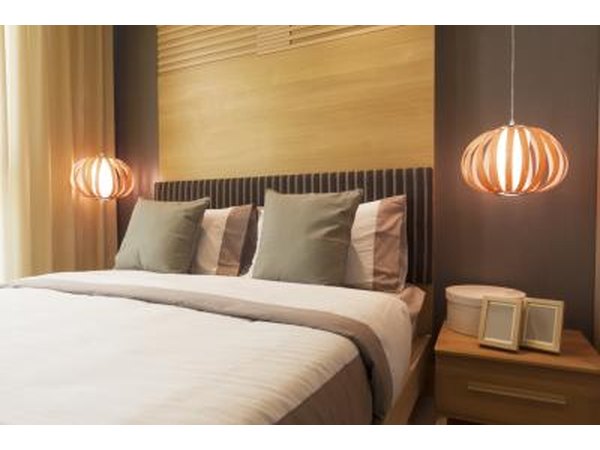 kettaphoto/iStock/Getty Images
Outfit your bathroom with the basic necessities, such as a shower curtain, matching bath mat and hand towels. Other must-have items include a soap dish with soap, trash can, and a decorative storage unit to mount over the toilet that holds your health and beauty items. The area under the sink is the place to store your plunger, supply of extra toilet paper, toilet bowl cleaner, toilet bowl brush, bathroom cleaner with bleach, and laundry detergents, bleach and dryer sheets.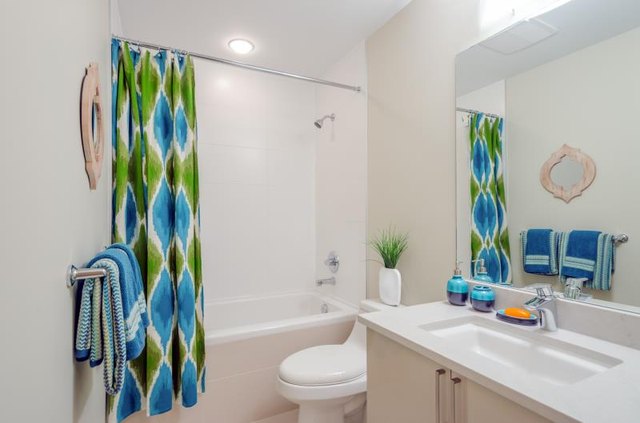 ppa5/iStock/Getty Images
Promoted By Zergnet