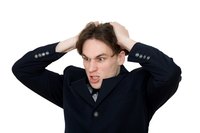 You must retain documentation of your reasons for terminating an employee, whether the separation occurred with or without warning. Understanding the proper way to terminate an employee prevents costly mistakes and allows you to make to correct decisions for your organization.
Getting Sued
If you terminate an employee without sufficient coaching and written warning, you open yourself up to a lawsuit. It is easy to file a wrongful termination claim. As the employer, you need legal counsel and a sound paper trail to prove your case for termination. Valid reasons for immediate termination include theft, the use of intoxicating substances at work, harassment and discriminatory conduct. Back up the reason for termination with solid proof and documentation.
Employee Morale
The wake of a sudden termination will have your remaining employees feeling vulnerable to the same fate. You must call a staff meeting to discuss the event immediately to reassure your team, to review your company's code of conduct and to answer any concerns. Then return to business as usual.
Decreased Productivity
When an employee is suddenly terminated, you will have to ration his job responsibilities to your remaining staff. This will decrease morale and productivity until the employee is replaced. Remain positive and communicate clearly your appreciation of the extra work the current team members are contributing; and recruit your new employee quickly and effectively.