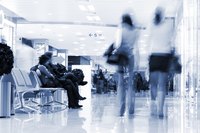 Business risks come in all shapes and sizes. Regardless of what kind of industry your business is in, there are universal risks that every business faces. Understanding risk is imperative to maintain a successful and profitable company. According to Business Link, risks can be divided into two categories: internal and external risks. Within the category of internal risks are four sub-categories of business risks: strategic, compliance, financial and operational. External risks, on the other hand, include subcategories like economic risks.
Strategic Risks
Businesses are founded on strategies and strategic goals. Without strategies, businesses would not be able to realize growth and new opportunities. But risks come with developing new strategies. According to Business Link, strategic risks can arise from strategic business ventures such as mergers, developing new products and entering new markets. In all cases the potential benefit can be overstated, such as if a new product doesn't catch on or a new market lacks buying power.
Compliance Risks
Compliance risks, according to Business Link, are those that have to do with adhering to laws and regulations. The health care industry encounters a lot of compliance risks because of the stringent rules and regulations that doctors and hospitals must abide by. Compliance risks can arise in areas such as a business's work force. For instance, the U.S. Occupational Safety and Health Administration protects employees' rights to safety in the workplace. Businesses that do not ensure safe work environments are exposing themselves to compliance risks.
Financial Risks
Businesses pay a lot of special attention to financial risks, since money drives a company forward and abets in a company's success. Financial risks, such as investments, loans and debt, can be scary for business owners because of the uncertainty attached to financial decisions. Financial risks are not limited to a company's internal structure. A lot of financial uncertainty has to do with the external factors, like the economy and competitors.
Operational Risks
Operational risks have to do with the inner workings of a company, such as their information technology systems, internal processes, recruitment efforts and supply chains. An example of an IT risk is that of data protection. If businesses do not take proper measures to install safeguards to protect against hackers, they may be vulnerable to lost or stolen information, or even finances.
Economic Risks
Economic risks are external risks that have to do with the condition of the economy and its impact on businesses. According to Biz/Ed, good economies inspire more consumer demand and spending. On the other hand, poor economies hinder consumer demand and spending, thereby causing companies to be less profitable. The uncertainty and ever-changing variables of the economy are why the economy constitutes an external business risk.