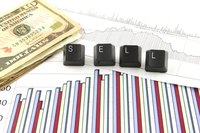 Stock investments are shares in a company and are classified as either preferred stock or common stock. The value of stock investments is determined by the type of stock that is held by the stockholder, and this affects the buying and selling price of the stock.
Growth Stocks
Growth stocks, also known as glamor stocks, are shares held by the stockholder in a company with earnings that are expected to gain value over a period of time and yield a high return that exceeds the relative market rate. Growth stock investors benefit from the gains since the stock price goes up as the business experiences growth. This growth increases the value of this type of stock and the profits gained are usually reinvested back into the company. Since the company has a tendency of reinvesting the profits, this type of stock does not usually pay a dividend to the shareholder. In 2010, technology companies account for the majority of growth stock issuers. In some cases, a growth stock can be overvalued, so it is important for prospective growth stock investors to do their research and find out the real value of the stock prior to investing. Growth stock companies comprise various sectors and industries. Here are some examples of growth stock companies: Aeropostale, Panera Bread, Urban Outfitters, LCA Vision, Berry Petroleum, FMC Technologies, Navigant Consulting and Knight Transportation.
Income Stocks
Income stocks are attractive because of the higher divided payout they offer. An income stock is an equity security with gradually increasing dividends that offer a high yield, which ensures the stockholder receives a regular payment. Income stock investment is preferred by investors looking to gain a high yield of profits with a relatively low-risk stock investment. The majority of income stocks are less volatile than the stock market in general and, as a result, they yield dividends that are higher than the average stock market dividends. They offer ongoing streams of revenue that enable companies to offer investors a high level of income payout. This type of stock investment can be found in any industry, but is most common in financial institutions, natural resources, energy, real estate investment trusts or utility companies.
Blue Chip Stocks
Blue chip stocks are stocks sold by companies that are reputable, secure and have steady earnings with a minimum level of liabilities. Moreover, since well-established companies issue blue chip stocks, this type of stock is often sought after because it offers a stable track record of regular payment of dividends. Investors looking for secure, safe and reliable stocks are most likely to invest in blue chip stocks because they are considered one of the most valuable types of stock investment. Companies like Exxon Mobil, Coca-Cola, Gillette and Walmart are companies that offer blue chip stocks.