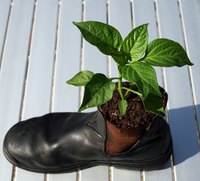 As the world becomes more environmentally conscientious, many organizations are looking for ways to get on the bandwagon and reduce their carbon footprints. Some businesses must change the way they function to comply with new environmental legislation, while others are concerned by how their stakeholders, customers and local communities perceive them. There are many different environmental considerations for today's businesses.
Waste Disposal
The environmental concern of waste disposal is typically not just focused on preventing hazardous waste from being emptied into streams, rivers, lakes or oceans, or dangerous smog being pumped into the air—many companies don't have these issues or they follow federal regulations regarding waste disposal.
The concern is deeper than that and includes what consumers do with the companies' products after using them. For example, many bottled water companies are rethinking their plastic bottle designs because of the influx of these space-wasting vessels in the nation's dumps and landfills.
Energy Usage
Some companies are concerned with daily energy usage. Many have switched to more "green" light bulbs and energy-saving thermostats, while others are considering four-day work weeks to save money on electricity and heating bills. To help with this, the U.S. federal government offers substantial tax breaks and incentives for companies that install energy-efficient lighting; use building envelope techniques (installing a thermal barrier between a building's interior and exterior, including the foundation, walls and roof); and meet heating, ventilation and air conditioning standards.
Other ways that companies can improve in this area may include adding more telecommuters who work from home or purchasing energy-efficient office machines. Many companies that provide corporate cars now give employees hybrid car options. Larger companies are looking at renewable energy sources, such as wind and solar energy, for future production and manufacturing needs.
Daily Business Activities
Many companies are trying to make a big difference by incorporating small changes to daily business activities. For example, some companies require all non-essential documents and memos to be sent electronically only, rather than wasting paper with copies. Others add recycling bins throughout their offices. Some companies have eliminated plastic water bottles and Styrofoam coffee cups, and give their employees ceramic mugs and stainless steel water bottles with their company logos. Others give incentives to employees who carpool or ride their bikes to work.