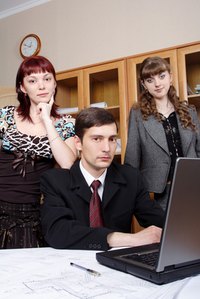 Ethics training is designed to educate individuals as to what is acceptable behavior, typically in a workplace environment or when conducting business activities. Ethics training may be a legal requirement or a means of reminding employees of expectations. Ethics training can benefit clients by requiring professionals who serve them to abide by a strict code of conduct.
Code Education
Companies often construct a written code of ethics by which all employees are expected to abide. Ethics training may be included as part of a new employee orientation program to introduce the new hire to the code so that they understand the company's expectations. Ethics training may also be given periodically to existing employees to remind them of what is acceptable behavior and conduct in the workplace. Companies may find the need to give ethics training after an occurrence of unethical behavior in the workplace, such as when an employee is terminated for violating a bylaw of the code.
Proper Business Conduct
Ethics training may not only apply to conduct within the workplace, but also to conducting business with customers and business associates. For example, an employee who works in sales may have to abide by certain ethical precepts regarding incentives he offers to customers or prospects. An employee whose job is to procure products for the company may be limited on the dollar value of any gifts she is allowed to receive from vendors. Ethics training can clarify what the limits are as well as explain the penalties for violating the rules.
Licensing and Compliance
Ethics training may be included as part of a professional training or licensing program or as a form of compliance. Some state insurance departments include ethics training as part of the requirements to obtain an insurance license and ethics questions are often included in the licensing examination. Ethics training may also be part of the compliance requirements for continuing education. Professionals such as doctors, attorneys and certified public accounts must also undergo ethics training to be permitted to practice. In these situations, ethics training has been devised to protect the interests of patients and clients.